VP Election Result: Celebrations Begin As NDA's Pick Wins Big. PM Modi Meets Jagdeep Dhankhar
New Delhi: Leaders of the Bharatiya Janata Party (BJP) started to arrive at the new vice-preisdent elect Jagdeep Dhankhar's residence shorlty after his victory was delcared. Celebrations have begun at the NDA's vice president candidate as leaders like JP Nadda and Amit Shah reached at Dhankhar's Delhi residence to congratulate him. Prime Minister Narendra Modi also arrived at Dhankhar's residence to participate in the celebrations as per ABP News sources.  Election for next Vice President of Indian took place earlier today at 10 am and concluded at 5 pm. Soon after the results were announced where Dhankhar defeated the Opposition's candidate Margaret Alva with a huge margin.  Dhankhar had a clear edge over his opponent with the ruling BJP having an absolute majority in the Lok Sabha and 91 members in the Rajya Sabha.  PM Narendra Modi meets Vice-President elect Jagdeep Dhankhar soon after his election to the office, at his residence in Delhi pic.twitter.com/7BvYOurskk — ANI (@ANI) August 6, 2022 He will succeed incumbent M Venkaiah Naidu, whose term will end on August 10, to become the 14th Vice President of India.  Dhankhar, 71 is a lawyer by profession who was one of the leading professionals in the country and has practiced in both, the Rajasthan High Court and the Supreme Court of India. He served as the governor of West Bengal in 2019. He stepped into public life after getting elected as the Member of Parliament (MP) from Jhunjhunu in the 1989 Lok Sabha elections and later was elected MLA to Rajasthan Assembly from Ajmer's Kishangarh constituency in 1993.  Born in an agrarian household in a remote village in the Jhunjhunu district of Rajasthan, Dhankhar completed his school education at Sainik School in Chittorgarh. After completing his graduation in Physics, he pursued LLB from the University of Rajasthan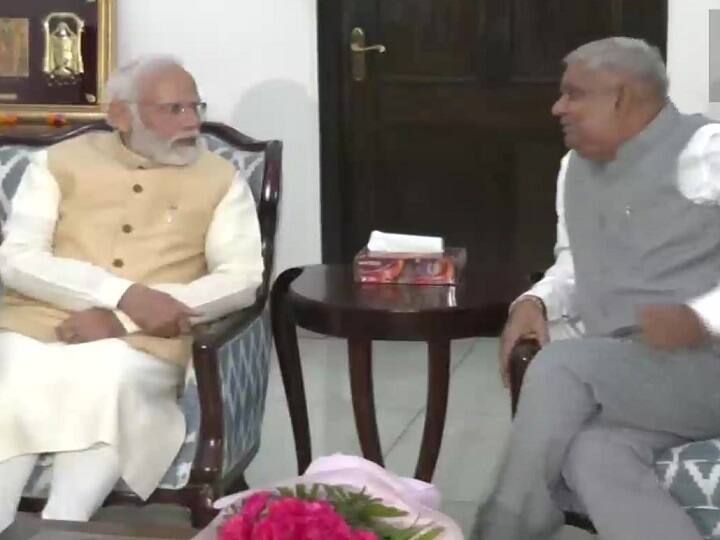 New Delhi: Leaders of the Bharatiya Janata Party (BJP) started to arrive at the new vice-preisdent elect Jagdeep Dhankhar's residence shorlty after his victory was delcared. Celebrations have begun at the NDA's vice president candidate as leaders like JP Nadda and Amit Shah reached at Dhankhar's Delhi residence to congratulate him. Prime Minister Narendra Modi also arrived at Dhankhar's residence to participate in the celebrations as per ABP News sources.
Election for next Vice President of Indian took place earlier today at 10 am and concluded at 5 pm. Soon after the results were announced where Dhankhar defeated the Opposition's candidate Margaret Alva with a huge margin.
Dhankhar had a clear edge over his opponent with the ruling BJP having an absolute majority in the Lok Sabha and 91 members in the Rajya Sabha.
PM Narendra Modi meets Vice-President elect Jagdeep Dhankhar soon after his election to the office, at his residence in Delhi pic.twitter.com/7BvYOurskk

— ANI (@ANI) August 6, 2022
He will succeed incumbent M Venkaiah Naidu, whose term will end on August 10, to become the 14th Vice President of India.
Dhankhar, 71 is a lawyer by profession who was one of the leading professionals in the country and has practiced in both, the Rajasthan High Court and the Supreme Court of India. He served as the governor of West Bengal in 2019. He stepped into public life after getting elected as the Member of Parliament (MP) from Jhunjhunu in the 1989 Lok Sabha elections and later was elected MLA to Rajasthan Assembly from Ajmer's Kishangarh constituency in 1993.
Born in an agrarian household in a remote village in the Jhunjhunu district of Rajasthan, Dhankhar completed his school education at Sainik School in Chittorgarh. After completing his graduation in Physics, he pursued LLB from the University of Rajasthan