Tamil Nadu: Three Killed In Firecracker Unit Blast In Cuddalore
Chennai: Three people were charred and two others suffered grievous injuries in a blast at a firecracker manufacturing unit in Tamil Nadu's Cuddalore district on Thursday. According to the police, the firecracker manufacturing unit was functioning in a village near Capper Hills in Cuddalore. The unit also had a retail unit adjacent to it. At the time of the accident, five persons were involved in making firecrackers at the manufacturing unit. When friction was caused between the chemical substance while making the cracker, an explosion occurred in the unit destroying the godown and the retail unit. Three people including two women who were involved in the firecracker manufacturing at the room were charred and the remaining two persons suffered grievous injuries.  Also Read | Who Is Tamil Magan Hussain? One Of AIADMK Founding Members Who Is Now Party Presidium Chairman The deceased were identified as Chithra (35) from Periyakadu, Ambika (50) from Nellikuppam and Sathyaraj (34) from Moolakuppam. One of the injured was identified as Vasantha from Nellikuppam. Both the injured persons have been admitted to Cuddalore Government Hospital for treatment. However, police said, the condition of one of the injured patients is critical.Also Read | AIADMK General Council Meeting: EPS Camp Says Resolution On Single Leadership On July 11, OPS Walks Out After the accident, Tamil Nadu Chief Minister M.K. Stalin expressed deep condolences to the death of people in the blast. The Chief Minister also directed the health care authorities to provide the best treatment to those injured. Stalin announced a solatium of Rs 3 lakh each to the families of the deceased.(With IANS inputs)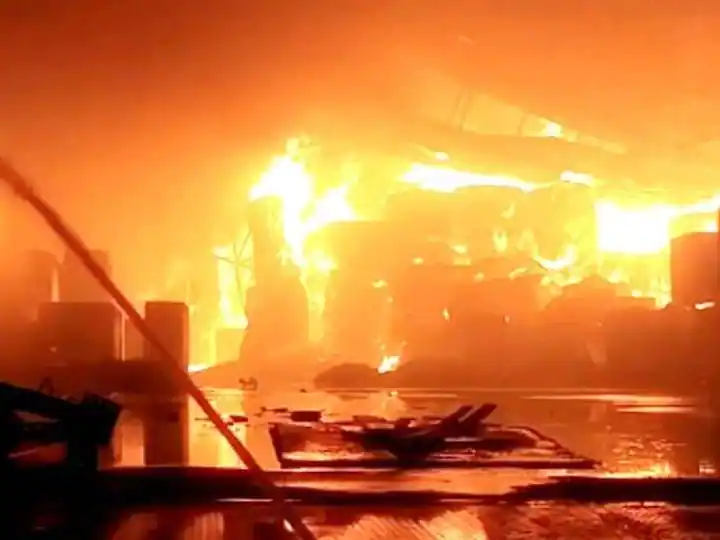 Chennai: Three people were charred and two others suffered grievous injuries in a blast at a firecracker manufacturing unit in Tamil Nadu's Cuddalore district on Thursday.
According to the police, the firecracker manufacturing unit was functioning in a village near Capper Hills in Cuddalore. The unit also had a retail unit adjacent to it.

At the time of the accident, five persons were involved in making firecrackers at the manufacturing unit. When friction was caused between the chemical substance while making the cracker, an explosion occurred in the unit destroying the godown and the retail unit.
Three people including two women who were involved in the firecracker manufacturing at the room were charred and the remaining two persons suffered grievous injuries.
Also Read | Who Is Tamil Magan Hussain? One Of AIADMK Founding Members Who Is Now Party Presidium Chairman
The deceased were identified as Chithra (35) from Periyakadu, Ambika (50) from Nellikuppam and Sathyaraj (34) from Moolakuppam.
One of the injured was identified as Vasantha from Nellikuppam. Both the injured persons have been admitted to Cuddalore Government Hospital for treatment.
However, police said, the condition of one of the injured patients is critical.

Also Read | AIADMK General Council Meeting: EPS Camp Says Resolution On Single Leadership On July 11, OPS Walks Out
After the accident, Tamil Nadu Chief Minister M.K. Stalin expressed deep condolences to the death of people in the blast. The Chief Minister also directed the health care authorities to provide the best treatment to those injured.
Stalin announced a solatium of Rs 3 lakh each to the families of the deceased.

(With IANS inputs)