Tamil Nadu CM Stalin Recovers From Covid-19, To Be Discharged From Hospital Tomorrow
New Delhi: Tamil Nadu Chief Minister MK Stalin recovered well from Covid-19 infection, said a Kauvery hospital bulletin, which was released at 12 noon on Sunday. The chief minister will be discharged from the hospital on Monday, further said the release. The 69-year-old Tamil Nadu CM will be discharged on Monday as he completes the isolation period. The doctors have advised the CM to take complete rest for one more week to get better of the post-Covid complications. "Chief Minister of Tamil Nadu, MK Stalin, who is being treated for Covid has recovered well from the infection. He will be completing the isolation period tomorrow and will be discharged from the hospital. He has been advised complete rest at home for one more week," said the bulletin released by the hospital on Sunday.  Also read | Kallakurichi Violence: School Bus Set On Fire As Protests Over Class 12 Girl's Death Intensify - Watch According to an earlier bulletin, which was released on Friday, the doctors at the Kauvery hospital said that CM Stalin is recovering well but has been advised to rest for a few more days. The hospital also informed that all health investigations were performed as per Covid treatment protocol. Meanwhile, PM Modi spoke to Stalin over the phone and enquired about his health. The CM was admitted to the hospital on Thursday for investigation and observation for Covid-related symptoms. A CT scan was also taken to rule out any severity of the infection. TN CM Stalin tested positive for coronavirus on Tuesday. Also read | WATCH | Chennai's Napier Bridge Painted Like Chess Board Ahead Of Upcoming 44th Chess Olympiad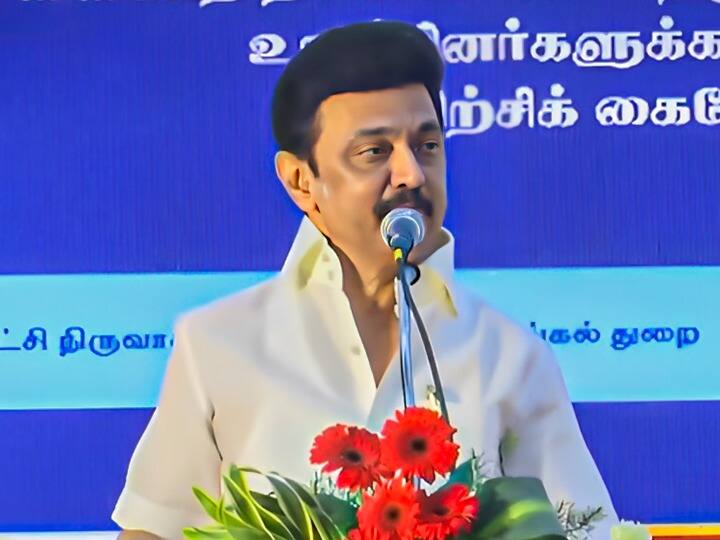 New Delhi: Tamil Nadu Chief Minister MK Stalin recovered well from Covid-19 infection, said a Kauvery hospital bulletin, which was released at 12 noon on Sunday. The chief minister will be discharged from the hospital on Monday, further said the release.
The 69-year-old Tamil Nadu CM will be discharged on Monday as he completes the isolation period. The doctors have advised the CM to take complete rest for one more week to get better of the post-Covid complications.
"Chief Minister of Tamil Nadu, MK Stalin, who is being treated for Covid has recovered well from the infection. He will be completing the isolation period tomorrow and will be discharged from the hospital. He has been advised complete rest at home for one more week," said the bulletin released by the hospital on Sunday.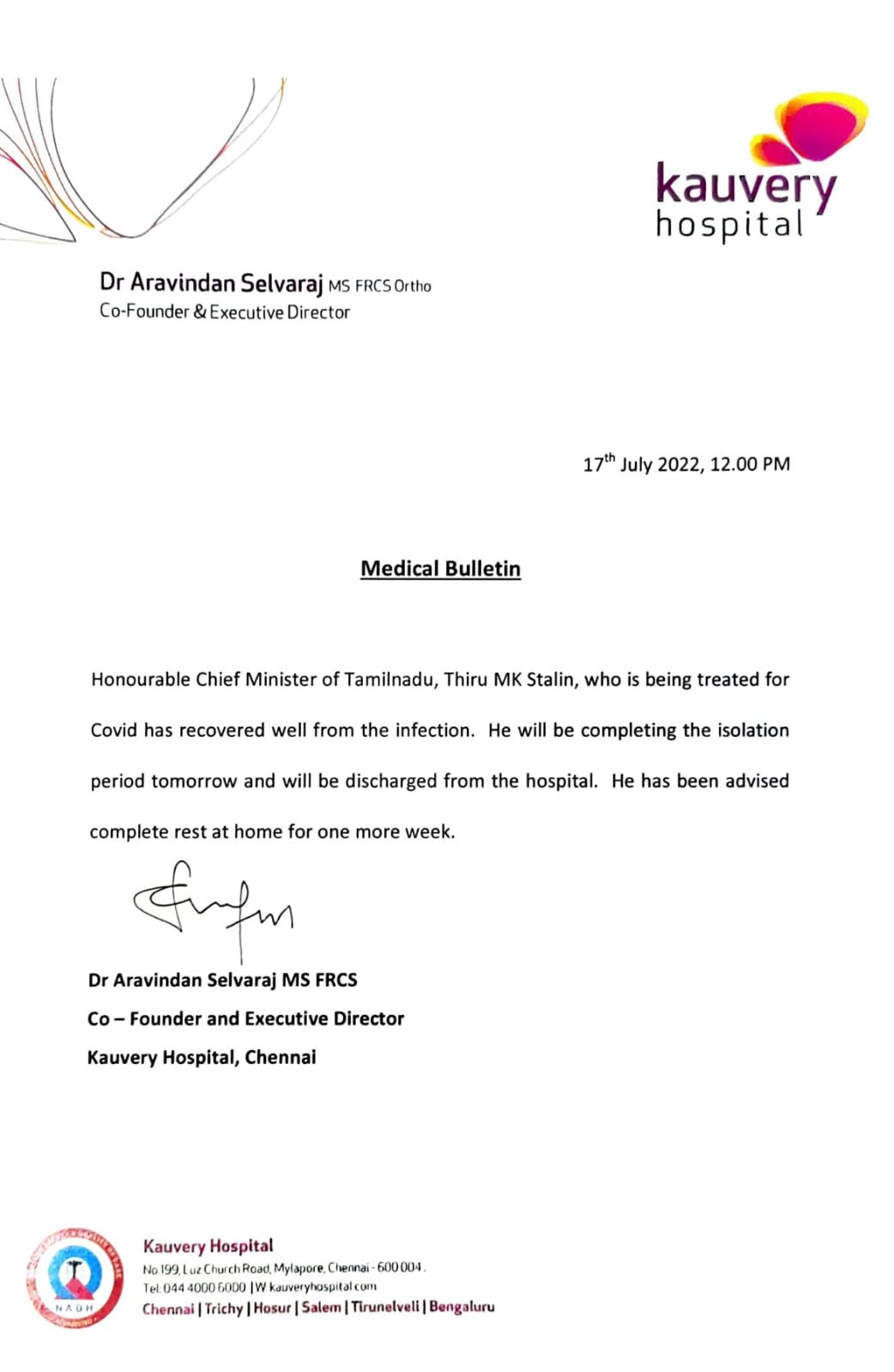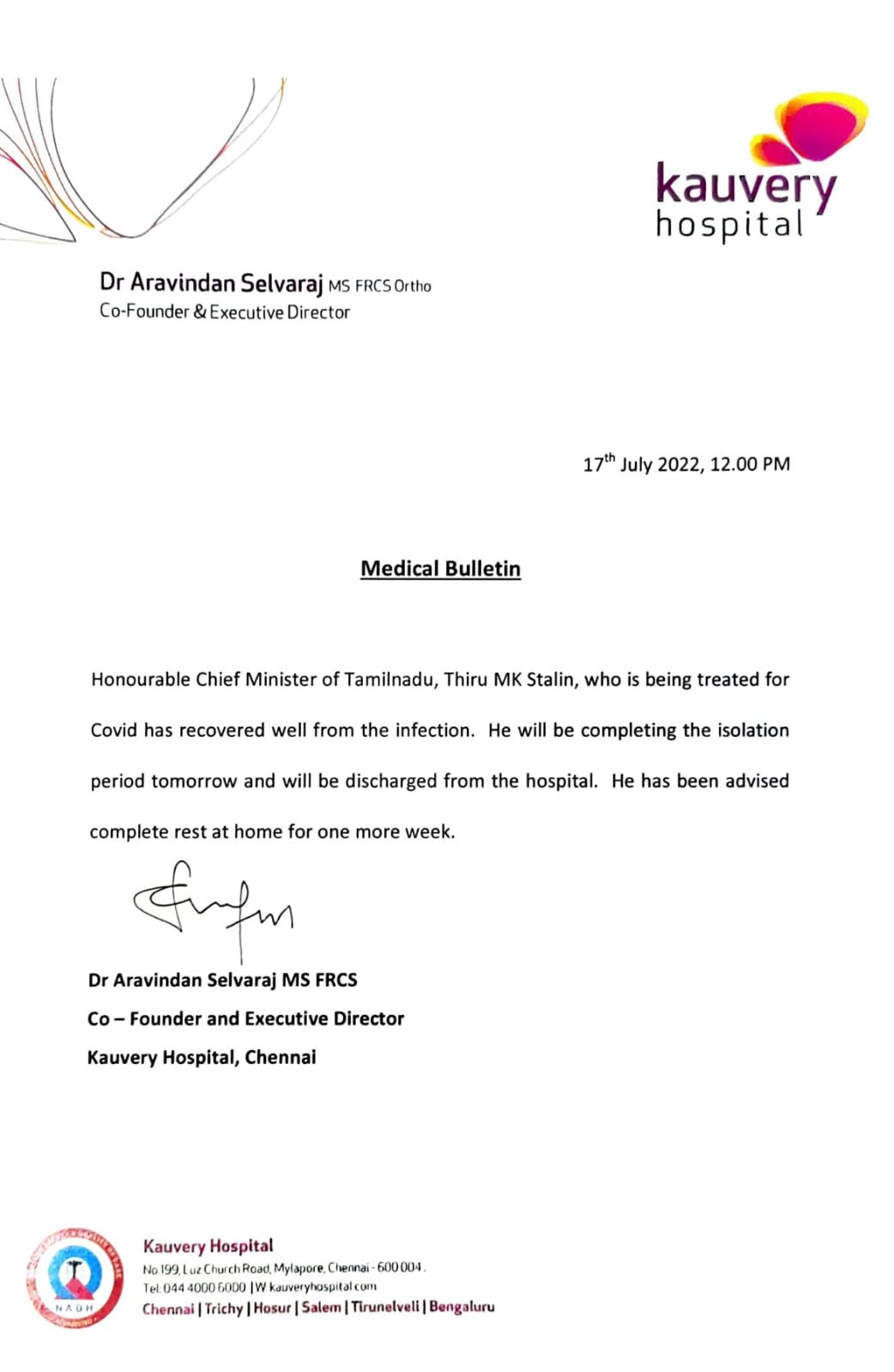 Also read | Kallakurichi Violence: School Bus Set On Fire As Protests Over Class 12 Girl's Death Intensify - Watch
According to an earlier bulletin, which was released on Friday, the doctors at the Kauvery hospital said that CM Stalin is recovering well but has been advised to rest for a few more days. The hospital also informed that all health investigations were performed as per Covid treatment protocol.
Meanwhile, PM Modi spoke to Stalin over the phone and enquired about his health.
The CM was admitted to the hospital on Thursday for investigation and observation for Covid-related symptoms. A CT scan was also taken to rule out any severity of the infection. TN CM Stalin tested positive for coronavirus on Tuesday.
Also read | WATCH | Chennai's Napier Bridge Painted Like Chess Board Ahead Of Upcoming 44th Chess Olympiad