Sarfaraz Ahmed Gets Bowled On His Five-Year-Old Son's Yorker. Watch Viral Video
New Delhi: A video of Pakistan cricket team's former skipper Sarfaraz Ahmed is becoming quite viral on social media. In the viral video, the veteran can be seen playing street cricket with his five-year-old son Abdullah. What made the video viral was Ahmed getting clean bowled off his son's perfect yorker. Sarfaraz Ahmed hasn't been part of the Pakistan cricket team for some time, ever since he lost his place to Mohammed Rizwan. Under Sarfaraz's captaincy, Pakistan defeated India to win the 2017 ICC Champions Trophy title. However, after this in the 2019 World Cup, under his captaincy, Pakistan failed to progress beyond the group stage. Sarfaraz was sidelined in Pakistan cricket team for the 2021 World Cup after this and another wicketkeeper Mohammad Rizwan was handed his spot. Shabash Beta Abba ki he wicket he ura di ???????????? @SarfarazA_54 pic.twitter.com/rpvdxcNUVv — Thakur (@hassam_sajjad) June 20, 2022 Sarfaraz in an interview had said that he does not want Abdullah to play cricket as it involves a lot of pressure. However, his talented son seems to have a great interest in cricket and enjoys the sport. Seeing this video, one can predict that Abdullah would love to play cricket as a fast bowler.   "Abdullah is passionate about playing cricket. But I don't want him to become a cricketer," Sarfaraz had said during an interview on a local channel. "Actually, being a cricketer, I suffered many things that I don't want Abdullah to face. It's human nature. Being a cricketer, I want my brother or son to be selected immediately. Otherwise, it hurts."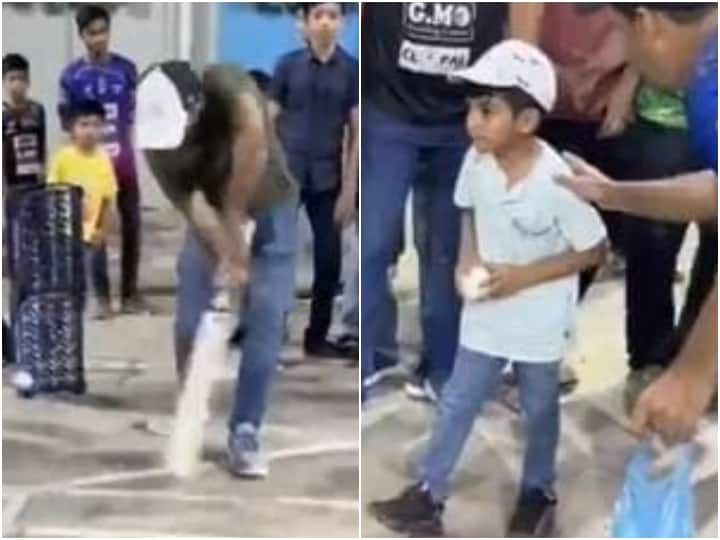 New Delhi: A video of Pakistan cricket team's former skipper Sarfaraz Ahmed is becoming quite viral on social media. In the viral video, the veteran can be seen playing street cricket with his five-year-old son Abdullah. What made the video viral was Ahmed getting clean bowled off his son's perfect yorker. Sarfaraz Ahmed hasn't been part of the Pakistan cricket team for some time, ever since he lost his place to Mohammed Rizwan.
Under Sarfaraz's captaincy, Pakistan defeated India to win the 2017 ICC Champions Trophy title. However, after this in the 2019 World Cup, under his captaincy, Pakistan failed to progress beyond the group stage.
Sarfaraz was sidelined in Pakistan cricket team for the 2021 World Cup after this and another wicketkeeper Mohammad Rizwan was handed his spot.
Shabash Beta Abba ki he wicket he ura di ???????????? @SarfarazA_54 pic.twitter.com/rpvdxcNUVv

— Thakur (@hassam_sajjad) June 20, 2022
Sarfaraz in an interview had said that he does not want Abdullah to play cricket as it involves a lot of pressure. However, his talented son seems to have a great interest in cricket and enjoys the sport. Seeing this video, one can predict that Abdullah would love to play cricket as a fast bowler.
"Abdullah is passionate about playing cricket. But I don't want him to become a cricketer," Sarfaraz had said during an interview on a local channel. "Actually, being a cricketer, I suffered many things that I don't want Abdullah to face. It's human nature. Being a cricketer, I want my brother or son to be selected immediately. Otherwise, it hurts."