Realme Techlife Watch R100, The First Bluetooth Calling Smartwatch From Realme Is Here: Price, Specs And More
Realme on Thursday launched its first Bluetooth calling smartwatch in India. The company launched the Realme Techlife Watch R100 under its TechLife ecosystem for a price of Rs 3,499. Some of the USPs of the smartwatch includes a 380mAh battery, an aluminium bezel design and a 1.3-inch round metal dial. The Realme Techlife Watch R100 comes with Bluetooth calling function with a built-in microphone and speaker and features a 380mAh battery which can last up to seven days and can be charged up to 100 per cent in two hours, the company claimed. The round metal dial is a combination of classic design and technology featuring an aluminium bezel.  At Rs 3,499 the smartwatch competes with homegrown brand Fire-Boltt's Ninja Bell smartwatch.  "Realme flew past its competitors with trendsetting design, technology, and performance in a short period of time, and the Realme Techlife Watch R100 is one of the most attractive and feature-packed fitness trackers on the market. We believe in disrupting and changing the status quo and this new smartwatch is a testimony to Realme's 'Dare to Leap' spirit," Madhav Sheth, CEO, Realme India, VP, Realme and President, Realme International Business Group, said in a statement. The Realme Techlife Watch R100 comes with a 1.32-inch round display with a resolution of 360 x 360 pixels. The display has a  peak brightness of 450 nits. The Realme Techlife Watch R100 strap is made of skin-friendly silicone which is both soft and light, weighing only 46 grams, thus, making it ideal for long-term use, the company claimed. Realme Techlife watch R100 features more than 100 watch faces and over 100 sports modes to help users maintain their activity records. Other health monitoring features in the smartwatch are all-day heart rate monitoring and blood oxygen monitoring.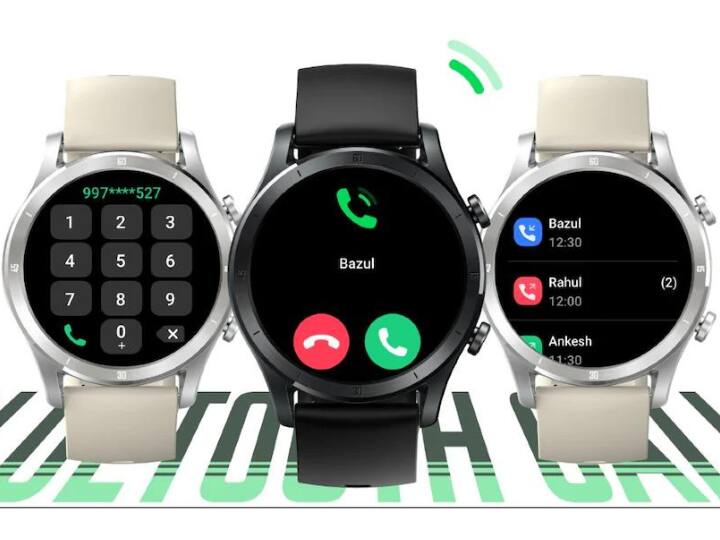 Realme on Thursday launched its first Bluetooth calling smartwatch in India. The company launched the Realme Techlife Watch R100 under its TechLife ecosystem for a price of Rs 3,499. Some of the USPs of the smartwatch includes a 380mAh battery, an aluminium bezel design and a 1.3-inch round metal dial.
The Realme Techlife Watch R100 comes with Bluetooth calling function with a built-in microphone and speaker and features a 380mAh battery which can last up to seven days and can be charged up to 100 per cent in two hours, the company claimed. The round metal dial is a combination of classic design and technology featuring an aluminium bezel.
At Rs 3,499 the smartwatch competes with homegrown brand Fire-Boltt's Ninja Bell smartwatch.
"Realme flew past its competitors with trendsetting design, technology, and performance in a short period of time, and the Realme Techlife Watch R100 is one of the most attractive and feature-packed fitness trackers on the market. We believe in disrupting and changing the status quo and this new smartwatch is a testimony to Realme's 'Dare to Leap' spirit," Madhav Sheth, CEO, Realme India, VP, Realme and President, Realme International Business Group, said in a statement.
The Realme Techlife Watch R100 comes with a 1.32-inch round display with a resolution of 360 x 360 pixels. The display has a peak brightness of 450 nits. The Realme Techlife Watch R100 strap is made of skin-friendly silicone which is both soft and light, weighing only 46 grams, thus, making it ideal for long-term use, the company claimed.
Realme Techlife watch R100 features more than 100 watch faces and over 100 sports modes to help users maintain their activity records. Other health monitoring features in the smartwatch are all-day heart rate monitoring and blood oxygen monitoring.