Presidential Election 2022: Draupadi Murmu Arrives In Delhi, To File Nomination Tomorrow
New Delhi: Former Jharkhand Governor Draupadi Murmu, who has been declared the presidential candidate for NDA, arrived in the national capital on Thursday from Bhubaneswar. Murmu will file her nomination for the Presidential election on Friday. All leaders including the Prime Minister, Home Minister, BJP President, and Chief Minister of the states will be present for her nomination, according to ABP News sources.  #WATCH | Odisha: NDA's Presidential candidate Droupadi Murmu reaches Bhubaneswar airport.She is leaving for Delhi and will file her nomination for the Presidential election tomorrow, June 24th. pic.twitter.com/x0K3mACQk0 — ANI (@ANI) June 23, 2022 Murmu's family members are surprised by the announcement.  "It was unbelievable. We had never imagined that something like this can happen. We're still coming to terms with the reality -that this is actually happening. She herself is surprised," told Itishree Murmu, daughter of Murmu, in Bhubaneswar to news agency ANI. ALSO READ: 14th BRICS Summit: PM Modi To Attend Virtual Meet Today At Invitation Of Chinese President Soon after she was named presidential candidate by NDA, the Centre provided Murmu round-the-clock Z+ category security cover by the armed Central Reserve Police Force (CRPF) starting today. The armed squad took over the security of Murmu, 64 on Wednesday, reported PTI.  Ahead of the Delhi visit, Murmu visited several temples in the Rairangpur area of her home town Mayurbhanj district in Odisha on Wednesday to offer prayers ahead of her departure to Delhi. The 64-year-old Murmu on Wednesday visited the temples of Lord Jagannath, Hanuman, and Shiva in Rairangpur, the place from where she was first elected as an MLA in 2000. She also swept the premises of the Purandeswari Shiva temple before offering prayers. She is the first woman and a tribal leader from Odisha to be appointed a governor in an Indian state. If elected, Murmu will be the first tribal President of India and the second-ever female President. The presidential elections are scheduled for July 18.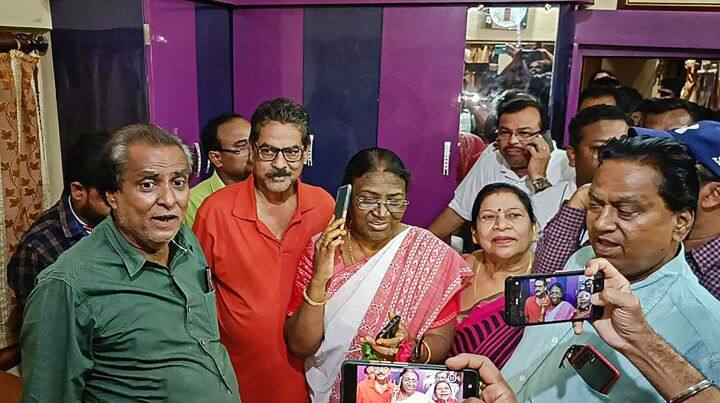 New Delhi: Former Jharkhand Governor Draupadi Murmu, who has been declared the presidential candidate for NDA, arrived in the national capital on Thursday from Bhubaneswar. Murmu will file her nomination for the Presidential election on Friday. All leaders including the Prime Minister, Home Minister, BJP President, and Chief Minister of the states will be present for her nomination, according to ABP News sources.
#WATCH | Odisha: NDA's Presidential candidate Droupadi Murmu reaches Bhubaneswar airport.

She is leaving for Delhi and will file her nomination for the Presidential election tomorrow, June 24th. pic.twitter.com/x0K3mACQk0

— ANI (@ANI) June 23, 2022
Murmu's family members are surprised by the announcement. "It was unbelievable. We had never imagined that something like this can happen. We're still coming to terms with the reality -that this is actually happening. She herself is surprised," told Itishree Murmu, daughter of Murmu, in Bhubaneswar to news agency ANI.
ALSO READ: 14th BRICS Summit: PM Modi To Attend Virtual Meet Today At Invitation Of Chinese President
Soon after she was named presidential candidate by NDA, the Centre provided Murmu round-the-clock Z+ category security cover by the armed Central Reserve Police Force (CRPF) starting today. The armed squad took over the security of Murmu, 64 on Wednesday, reported PTI.
Ahead of the Delhi visit, Murmu visited several temples in the Rairangpur area of her home town Mayurbhanj district in Odisha on Wednesday to offer prayers ahead of her departure to Delhi. The 64-year-old Murmu on Wednesday visited the temples of Lord Jagannath, Hanuman, and Shiva in Rairangpur, the place from where she was first elected as an MLA in 2000. She also swept the premises of the Purandeswari Shiva temple before offering prayers.
She is the first woman and a tribal leader from Odisha to be appointed a governor in an Indian state. If elected, Murmu will be the first tribal President of India and the second-ever female President. The presidential elections are scheduled for July 18.