Maharashtra: Rebel MLAs Camping In Guwahati Luxury Hotel. Here Is How Much It Costs
Apart from the devastating floods that has wrecked Assam, the state has been in the news ever since rebel Shiv Sena leader Eknath Shinde moved in with 40-odd MLAs, plunging the two-and-a-half-year old MVA government into a deep political crisis. Shinde and the group of MLAs are camping at the Radisson Blu luxury hotel, located on National Highway 37 on the outskirts of Guwahati, IANS reported. The MLAs, led by Shinde, landed at the Lokapriya Gopinath Bordoloi International Airport from Gujarat's Surat on Wednesday morning. From there, the MLAs were taken to the Radisson Blu hotel in three Assam State Transport Corporation luxury buses, escorted by the police. Seventy rooms have been booked for Rs 56 lakh for seven days at the hotel, IANS reported. The hotel has extensive event space, an outdoor pool, a spa, and five restaurants. The daily expense for food and other services is around Rs 8 lakh, taking the total seven-day cost to Rs 1.12 crore, IANS reported quoting sources. READ | Maharashtra Political Crisis: Floor Test Will Decide Fate Of MVA Govt, Says Sharad Pawar On Thursday, in a show of strength, Shinde posted pictures and videos with 41 MLAs from the hotel. Videos on social media show the MLAs, gathered in a hall, raising slogans for Shiv Sena, Balasaheb Thackeray and Eknath Shinde. On Thursday, six Maharashtra MLAs and Sena MLC Ravindra Phatak arrived in Gujarat's Surat city and were later flown to Guwahati in Assam, PTI reported. Interestingly, Phatak was part of a two-member delegation sent by Maharashtra CM Uddhav Thackeray to hold discussions with Shinde and other rebel Sena MLAs at a hotel in Surat to find a solution to the turmoil. As per passenger details, Phatak along with Shiv Sena MLAs - Dadaji Bhuse and Sanjay Rathod - left for Guwahati in a chartered flight from Surat on Thursday afternoon. Bhuse is the agriculture minister in the Maharashtra government. In the morning, four other MLAs - Mangesh Kudalkar, Sada Sarvankar, Ashish Jaiswal and Deepak Keskar - reached Guwahati in another chartered plane. (With inputs from agencies)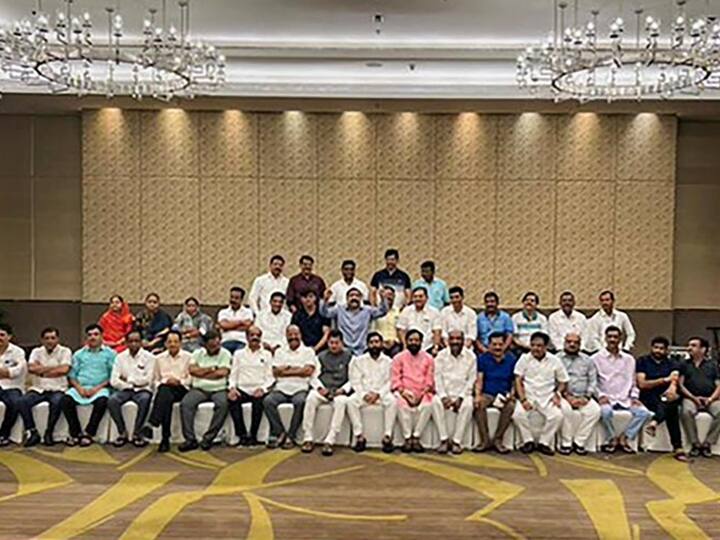 Apart from the devastating floods that has wrecked Assam, the state has been in the news ever since rebel Shiv Sena leader Eknath Shinde moved in with 40-odd MLAs, plunging the two-and-a-half-year old MVA government into a deep political crisis. Shinde and the group of MLAs are camping at the Radisson Blu luxury hotel, located on National Highway 37 on the outskirts of Guwahati, IANS reported.
The MLAs, led by Shinde, landed at the Lokapriya Gopinath Bordoloi International Airport from Gujarat's Surat on Wednesday morning. From there, the MLAs were taken to the Radisson Blu hotel in three Assam State Transport Corporation luxury buses, escorted by the police.
Seventy rooms have been booked for Rs 56 lakh for seven days at the hotel, IANS reported. The hotel has extensive event space, an outdoor pool, a spa, and five restaurants. The daily expense for food and other services is around Rs 8 lakh, taking the total seven-day cost to Rs 1.12 crore, IANS reported quoting sources.
READ | Maharashtra Political Crisis: Floor Test Will Decide Fate Of MVA Govt, Says Sharad Pawar
On Thursday, in a show of strength, Shinde posted pictures and videos with 41 MLAs from the hotel. Videos on social media show the MLAs, gathered in a hall, raising slogans for Shiv Sena, Balasaheb Thackeray and Eknath Shinde.
On Thursday, six Maharashtra MLAs and Sena MLC Ravindra Phatak arrived in Gujarat's Surat city and were later flown to Guwahati in Assam, PTI reported.
Interestingly, Phatak was part of a two-member delegation sent by Maharashtra CM Uddhav Thackeray to hold discussions with Shinde and other rebel Sena MLAs at a hotel in Surat to find a solution to the turmoil.
As per passenger details, Phatak along with Shiv Sena MLAs - Dadaji Bhuse and Sanjay Rathod - left for Guwahati in a chartered flight from Surat on Thursday afternoon. Bhuse is the agriculture minister in the Maharashtra government.
In the morning, four other MLAs - Mangesh Kudalkar, Sada Sarvankar, Ashish Jaiswal and Deepak Keskar - reached Guwahati in another chartered plane.
(With inputs from agencies)