'Jan Bhagidari': Activities To Participate In During Azadi Ka Amrit Mahotsav
Independence Day 2022: Azadi Ka Amrit Mahotsav is a pan-India celebration of the 75 years of India's independence. This campaign is made accessible by the organisation of cultural events all around the nation. Each event is planned to keep Azadi Ka Amrit Mahotsav's goal in mind: to achieve the greatest possible "Jan Bhagidari" (participation from Indian citizens). Here are all the participatory initiatives to ensure your participation in Azadi Ka Amrit Mahotsav on Independence Day 2022:  Har Ghar Tiranga: 'Har Ghar Tiranga' is a campaign under the aegis of Azadi Ka Amrit Mahotsav to encourage people to bring the Tiranga home and hoist it to commemorate the 75th year of India's independence. Bringing the flag home (hoisting the Tiranga at our respective homes) as a nation in the 75th year of independence represents both our dedication to building the country and our personal connection to the Tiranga. Pin Tiranga: Residents can participate in the Har Ghar Tiranga Campaign by pinning a digital flag on their property via the organization's website. Additionally, you have the option of adding your image to the website. The website also features a live dashboard that shows the number of Tricolours pinned from various locations across the country. Selfie With Tiranga: Under the same initiative, residents can add their selfies with the national flag on the Har Ghar Tiranga website.  Tiranga On DP: Prime Minister Narendra Modi urged people to adopt the tricolour as their display picture on social media after he added Trianga as his profile picture. Citizens can take part in this endeavour and add their contributions to the Azadi Ka Amrit Mahotsav celebration. Azadi Ke Senani: 'Azaadi Ke Senani' (Dress up like a real superhero) as a part of Azadi ka Amrit Mahotsav celebrations. This competition aims to teach our younger generation about those who gave us our freedom while also fostering love and respect for them. Children are required to dress as their favourite freedom-fighter heroes for this competition series, post the video to various social media sites, and share the information on the MyGov Innovate website. They must also, whenever possible, tag MyGov and utilise the hashtag (#AzaadiKeSenani). Unseen India: In honour of National Tourism Day and Azadi Ka Amrit Mahotsav, the Ministry of Tourism is inviting the public to submit a 200-word article, along with images and/or videos, describing "Lesser-known places" of historical, cultural, archaeological, or natural significance in their district, town, or region. This will help to highlight the hidden treasures that can be found throughout our nation. Documenting India's History of Public Administration: To highlight India's rich, diverse local public administration, the MyGov platform is hosting a competition called Documenting the History of Public Administration. Anecdotes or stories that highlight the administrative history of their district, region, or state and show how it continues to be relevant to the local administrations in those areas are invited to be shared by civil officials and citizens from around the nation. A photo, text, newspaper article, song, drama, or other historically or culturally significant artefact, together with a narrative describing its significance to their particular local administrative history, is requested from workers. These objects and tales may be based on the region's distinct social history, which may span antiquity or the middle ages, colonial times, and independent India. India is the largest known democracy, and we are celebrating 75 years of this journey of India being a democratic nation. In order to commemorate Azadi Ka Amrit Mahotsav, a 'Jan Bhagidari' (participatory approach) is needed to strengthen democracy. With this 'Jan Bhagidari' approach, people acquire a sense of relatability and develop a notion that the movement is being carried out by them, rather than it being a government-driven initiative, the nature of this approach is to bring out a down-to-top approach. So, with the above-mentioned initiatives, you can participate individually in the Azadi Ka Amrit Mahotsav.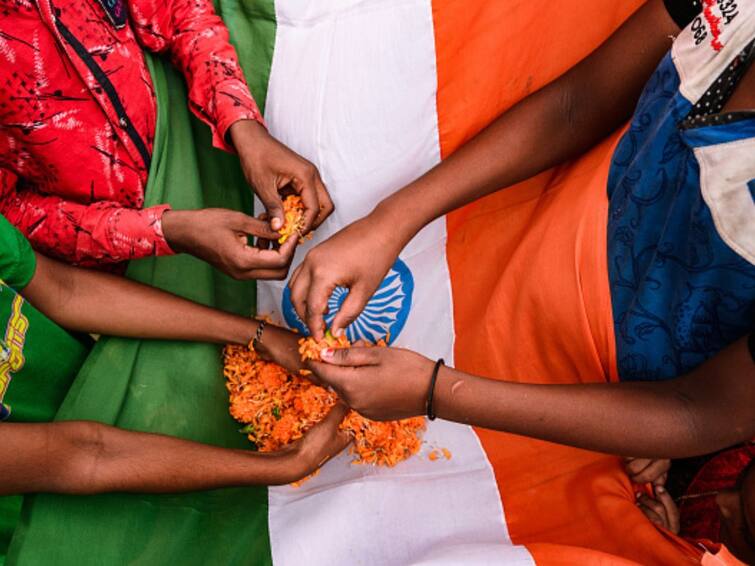 Independence Day 2022: Azadi Ka Amrit Mahotsav is a pan-India celebration of the 75 years of India's independence. This campaign is made accessible by the organisation of cultural events all around the nation. Each event is planned to keep Azadi Ka Amrit Mahotsav's goal in mind: to achieve the greatest possible "Jan Bhagidari" (participation from Indian citizens).
Here are all the participatory initiatives to ensure your participation in Azadi Ka Amrit Mahotsav on Independence Day 2022:
Har Ghar Tiranga: 'Har Ghar Tiranga' is a campaign under the aegis of Azadi Ka Amrit Mahotsav to encourage people to bring the Tiranga home and hoist it to commemorate the 75th year of India's independence. Bringing the flag home (hoisting the Tiranga at our respective homes) as a nation in the 75th year of independence represents both our dedication to building the country and our personal connection to the Tiranga.
Pin Tiranga: Residents can participate in the Har Ghar Tiranga Campaign by pinning a digital flag on their property via the organization's website. Additionally, you have the option of adding your image to the website. The website also features a live dashboard that shows the number of Tricolours pinned from various locations across the country.
Selfie With Tiranga: Under the same initiative, residents can add their selfies with the national flag on the Har Ghar Tiranga website.
Tiranga On DP: Prime Minister Narendra Modi urged people to adopt the tricolour as their display picture on social media after he added Trianga as his profile picture. Citizens can take part in this endeavour and add their contributions to the Azadi Ka Amrit Mahotsav celebration.
Azadi Ke Senani: 'Azaadi Ke Senani' (Dress up like a real superhero) as a part of Azadi ka Amrit Mahotsav celebrations. This competition aims to teach our younger generation about those who gave us our freedom while also fostering love and respect for them. Children are required to dress as their favourite freedom-fighter heroes for this competition series, post the video to various social media sites, and share the information on the MyGov Innovate website. They must also, whenever possible, tag MyGov and utilise the hashtag (#AzaadiKeSenani).
Unseen India: In honour of National Tourism Day and Azadi Ka Amrit Mahotsav, the Ministry of Tourism is inviting the public to submit a 200-word article, along with images and/or videos, describing "Lesser-known places" of historical, cultural, archaeological, or natural significance in their district, town, or region. This will help to highlight the hidden treasures that can be found throughout our nation.
Documenting India's History of Public Administration: To highlight India's rich, diverse local public administration, the MyGov platform is hosting a competition called Documenting the History of Public Administration. Anecdotes or stories that highlight the administrative history of their district, region, or state and show how it continues to be relevant to the local administrations in those areas are invited to be shared by civil officials and citizens from around the nation. A photo, text, newspaper article, song, drama, or other historically or culturally significant artefact, together with a narrative describing its significance to their particular local administrative history, is requested from workers. These objects and tales may be based on the region's distinct social history, which may span antiquity or the middle ages, colonial times, and independent India.
India is the largest known democracy, and we are celebrating 75 years of this journey of India being a democratic nation. In order to commemorate Azadi Ka Amrit Mahotsav, a 'Jan Bhagidari' (participatory approach) is needed to strengthen democracy.
With this 'Jan Bhagidari' approach, people acquire a sense of relatability and develop a notion that the movement is being carried out by them, rather than it being a government-driven initiative, the nature of this approach is to bring out a down-to-top approach. So, with the above-mentioned initiatives, you can participate individually in the Azadi Ka Amrit Mahotsav.