India News In Brief, June 23: 10 Dead After Vehicle Falls Into Ditch In UP, First Bharat Gaurav Train Arrives In Nepal's Janakpur & More
Vehicle Falls Into Roadside Ditch In UP's Pilibhit, 10 Dead  A vehicle overturned and fell into a roadside ditch in Uttar Pradesh's Gajraula area on Thursday, killing 10 people, including four minors. Seven people were injured in the accident, PTI reported. The vehicle was carrying 17 pilgrims from Haridwar and heading towards Lakhimpur Kheri district in Uttar Pradesh when it met with the accident on the Lucknow highway at around 4 am, PTI quoted police as saying. It seems that the driver dozed off and lost control over the vehicle, police said. Prime Minister Narendra Modi has approved an ex-gratia amount of Rs 2 lakh each from the Prime Minister's National Relief Fund (PMNRF) for the next of kin of the deceased. First Bharat Gaurav Tourist Train Arrives In Janakpur Bharat Gaurav Tourist Train connecting Ramayana Circuit reached Jayanagar at 10:45 am from Ayodhya, where soldiers led by SSB Deputy Commandant Mallu Ram gave a grand welcome to the tourists on board the train on Thursday. The whole station reverberated with the slogans of Bharat Mata Ki Jai. At around 11:20 am, Station Superintendent Shravan Lal Meena flagged off the train for Janakpurdham. There was a festive atmosphere all around the station. As soon as the train opened, the pilgrims greeted everyone by showing their hands. IAF To Condust First Capstone Seminar   The Indian Air Force is conducting the first Warfare & Aerospace Strategy Program (WASP), which will culminate with a Capstone Seminar, at Air Force Auditorium, New Delhi on Friday, June 24. To be attended by senior officers from all three services, air power scholars, academia from principal think tanks and premier colleges of the country, the seminar is taking place under the aegis of the College of Air Warfare and Centre for Air Power Studies. Chief of the Air Staff Air Chief Marshal VR Chaudhari will deliver the keynote address. According to a press release issued by the Ministry of Defence, the Capstone Seminar aims to showcase the learning objectives of WASP, and help the IAF leadership to validate the desired outcomes. The participants at the seminar will present papers on contemporary topics concerning application of air power in recent conflicts, and also the changing doctrinal precepts that establish "the dominant role of air power in national security". The IAF had conceptualised the WASP to create a pool of mid-career air power practitioners with strategic acumen and a deep understanding of warfare history and theory. PM Meets Foxconn Chairman Young Liu  Prime Minister Narendra Modi Thursday met Young Liu, Chairman of Foxconn, in New Delhi. The Taiwanese company is planning to expanding electronics manufacturing capacity in India. In a tweet, the PM said: Glad to meet Mr. Young Liu, Chairman, Foxconn. I welcome their plans for expanding electronics manufacturing capacity in India, including in semiconductors. Our push for EV manufacturing is in line with our commitment of Net Zero Emission." Glad to meet Mr. Young Liu, Chairman, Foxconn. I welcome their plans for expanding electronics manufacturing capacity in India, including in semiconductors. Our push for EV manufacturing is in line with our commitment of Net Zero Emission. pic.twitter.com/sC1AoGWn9c — Narendra Modi (@narendramodi) June 23, 2022 Chhattisgarh Assembly Monsoon Session From July 20 The monsoon session of the Chhattisgarh legislative Assembly will begin on July 20, news agency PTI reported, quoting an official. The 14th session of the fifth Chhattisgarh Legislative Assembly will have six sittings in all. According to an official notification issued by Dinesh Sharma, secretary of the Chhattisgarh Assembly, said it will commence from July 20 and conclude on July 27. All six days will see Question Hour, along with works pertaining to financial and government affairs. MP Rights Panel Issues Notice To Khandwa SP Over Death Of Theft Suspect In Police Custody The Madhya Pradesh Human Rights Commission (MPHRC) is learnt to have issued a notice to the superintendent of police (SP) of Khandwa district where a theft suspect died in police custody. The SP has been asked to submit a report within two months, PTI reported quoting an official. The theft accused arrested by the police was a 65-year-old man, Bhagwan Singh, and his family members have claimed that policemen on duty did not allow him to take his blood pressure medicine, following which he died. Khandwa SP Vivek Singh had removed the Kotwali police station in-charge after the incident and a judicial probe was initiated, the MPHRC official was quoted as saying. According to the family, Bhagwan Singh, who lived in Barwah town, was caught on June 17, and produced in a local court on June 21 after interrogation before being taken on remand, he said. The official said Singh's health deteriorated Wednesday morning and he vomited and later collapsed, adding that he died b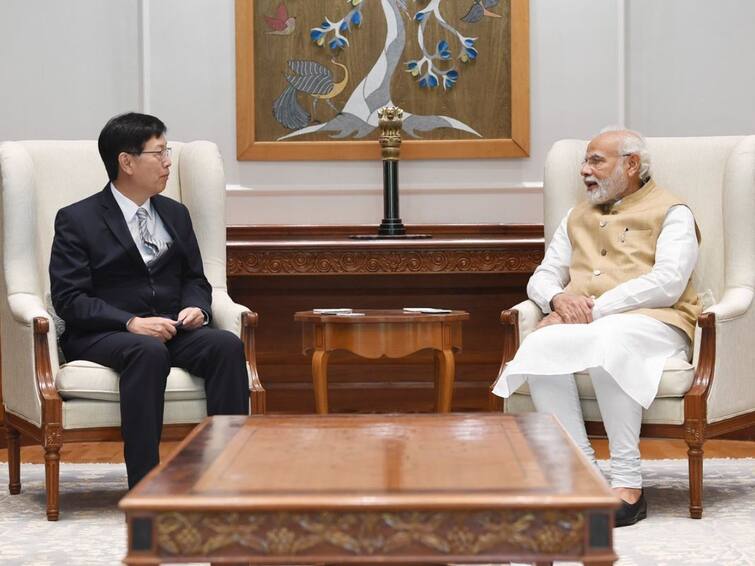 Vehicle Falls Into Roadside Ditch In UP's Pilibhit, 10 Dead
A vehicle overturned and fell into a roadside ditch in Uttar Pradesh's Gajraula area on Thursday, killing 10 people, including four minors. Seven people were injured in the accident, PTI reported. The vehicle was carrying 17 pilgrims from Haridwar and heading towards Lakhimpur Kheri district in Uttar Pradesh when it met with the accident on the Lucknow highway at around 4 am, PTI quoted police as saying. It seems that the driver dozed off and lost control over the vehicle, police said. Prime Minister Narendra Modi has approved an ex-gratia amount of Rs 2 lakh each from the Prime Minister's National Relief Fund (PMNRF) for the next of kin of the deceased.
First Bharat Gaurav Tourist Train Arrives In Janakpur

Bharat Gaurav Tourist Train connecting Ramayana Circuit reached Jayanagar at 10:45 am from Ayodhya, where soldiers led by SSB Deputy Commandant Mallu Ram gave a grand welcome to the tourists on board the train on Thursday. The whole station reverberated with the slogans of Bharat Mata Ki Jai. At around 11:20 am, Station Superintendent Shravan Lal Meena flagged off the train for Janakpurdham. There was a festive atmosphere all around the station. As soon as the train opened, the pilgrims greeted everyone by showing their hands.
IAF To Condust First Capstone Seminar
The Indian Air Force is conducting the first Warfare & Aerospace Strategy Program (WASP), which will culminate with a Capstone Seminar, at Air Force Auditorium, New Delhi on Friday, June 24. To be attended by senior officers from all three services, air power scholars, academia from principal think tanks and premier colleges of the country, the seminar is taking place under the aegis of the College of Air Warfare and Centre for Air Power Studies. Chief of the Air Staff Air Chief Marshal VR Chaudhari will deliver the keynote address.
According to a press release issued by the Ministry of Defence, the Capstone Seminar aims to showcase the learning objectives of WASP, and help the IAF leadership to validate the desired outcomes. The participants at the seminar will present papers on contemporary topics concerning application of air power in recent conflicts, and also the changing doctrinal precepts that establish "the dominant role of air power in national security".
The IAF had conceptualised the WASP to create a pool of mid-career air power practitioners with strategic acumen and a deep understanding of warfare history and theory.
PM Meets Foxconn Chairman Young Liu
Prime Minister Narendra Modi Thursday met Young Liu, Chairman of Foxconn, in New Delhi. The Taiwanese company is planning to expanding electronics manufacturing capacity in India. In a tweet, the PM said: Glad to meet Mr. Young Liu, Chairman, Foxconn. I welcome their plans for expanding electronics manufacturing capacity in India, including in semiconductors. Our push for EV manufacturing is in line with our commitment of Net Zero Emission."
Glad to meet Mr. Young Liu, Chairman, Foxconn. I welcome their plans for expanding electronics manufacturing capacity in India, including in semiconductors. Our push for EV manufacturing is in line with our commitment of Net Zero Emission. pic.twitter.com/sC1AoGWn9c

— Narendra Modi (@narendramodi) June 23, 2022
Chhattisgarh Assembly Monsoon Session From July 20
The monsoon session of the Chhattisgarh legislative Assembly will begin on July 20, news agency PTI reported, quoting an official. The 14th session of the fifth Chhattisgarh Legislative Assembly will have six sittings in all. According to an official notification issued by Dinesh Sharma, secretary of the Chhattisgarh Assembly, said it will commence from July 20 and conclude on July 27. All six days will see Question Hour, along with works pertaining to financial and government affairs.
MP Rights Panel Issues Notice To Khandwa SP Over Death Of Theft Suspect In Police Custody
The Madhya Pradesh Human Rights Commission (MPHRC) is learnt to have issued a notice to the superintendent of police (SP) of Khandwa district where a theft suspect died in police custody. The SP has been asked to submit a report within two months, PTI reported quoting an official. The theft accused arrested by the police was a 65-year-old man, Bhagwan Singh, and his family members have claimed that policemen on duty did not allow him to take his blood pressure medicine, following which he died.
Khandwa SP Vivek Singh had removed the Kotwali police station in-charge after the incident and a judicial probe was initiated, the MPHRC official was quoted as saying. According to the family, Bhagwan Singh, who lived in Barwah town, was caught on June 17, and produced in a local court on June 21 after interrogation before being taken on remand, he said.
The official said Singh's health deteriorated Wednesday morning and he vomited and later collapsed, adding that he died because of a suspected cardiac arrest. Quoting the Khandwa SP, the report said the accused was arrested in connection with the theft of a motorcycle. After he fell ill on Wednesday, an inspector had taken him to a hospital where doctors declared him dead on arrival.
UP: Farmer Found 'Murdered' In Fields
The body of a 50-year-old farmer was found in his fields on Thursday. According to the police, the body had injury marks on the head, and it appeared to be a case of murder, PTI reported.
"Sohanlal of Singra village was found dead in his fields in the morning in his farm in Mulpur village. It appears that he was strangled to death," Lucknow SP (Rural) Rajkumar Agarwal was quoted as saying. He said the body has been sent for a post-mortem to ascertain the exact cause of death.
Quoting the police, the PTI report said Sohanlal had gone to irrigate his fields on Wednesday night and slept there, adding that someone unidentified persons strangled him to death.
Union Minister Dr Jitendra Singh Visits National Centre for Medium Range Weather Forecast
Union Minister of State (Independent Charge), Science & Technology and Earth Sciences Dr Jitendra Singh visited the 'National Centre for Medium Range Weather Forecast (NCMRWF)', India's premier and one of the world's most upgraded institutions, in Noida on Thursday. He took a walk around the complex and NCMRWF head Dr Ashis K. Mitra briefed him about the facilities, functioning and various activities. Singh was also told about CRAY X-MP, the latest computing facility and India's first-ever supercomputer, which was installed at NCMRWF in 1988 and was in operation till 1999.
Speaking on the occasion, the minister said India is in the frontline in the field of weather forecasting, catering to a huge and diverse population. Under the leadership of Prime Minister Narendra Modi, the country is leading the world in addressing climate-related issues, said Singh, who is also MoS, PMO, Personnel, Public Grievances, Pensions, Atomic Energy and Space. He said the Indian youth has a scientific temper by aptitude, and the Government of India is committed to encouraging them by giving wider exposure.
The minister said the world should acknowledge India's top position in next 25 years, when the country would celebrate centenary of its independence, giving credit to its scientific prowess in research & development and innovation capabilities.
Mansukh Mandaviya Chairs Annual Gathering Of Hindi Salahkar Samiti
Union Minister for Chemical & Fertilizers and Health and Family Welfare Dr Mansukh Mandaviya Thursday chaired the annual meeting of Hindi Salahkar Samiti of Ministry of Chemicals & Fertilizers for the promotion of Hindi language. Minister of State for Chemical & Fertilizers Bhagwant Khuba was also present. Mandaviya also felicitated the award winners under various categories of Hindi promotion on the occasion.
Quoting Mahatma Gandhi, he said Hindi should be used in the national discourse for faster development, adding that "our sole aim is the welfare of every citizen and progress of our country and for this we must encourage usage of Hindi language". This, he said, It will promote cultural cohesiveness and expression. He said the samiti was constituted keeping this resolve in mind.
"Our constitution also directs us to promote Hindi language. Article 351 says that it shall be the duty of the Union to promote the spread of the Hindi language, to develop it so that it may serve as a medium of expression for all the elements of the composite culture of India and to secure its enrichment by assimilating without interfering with its genius, the forms, style and expressions used in Hindustani and in the other languages of India specified in the Eighth Schedule, and by drawing, wherever necessary or desirable, for its vocabulary, primarily on Sanskrit and secondarily on other languages", he added.