Hyderabad: HMDA Begins Rajiv Swagruha Flats Allotment Process From Today
Hyderabad: Hyderabad Metropolitan Development Authority (HMDA) has recently issued a notification for the sale of Rajiv Swagruha Flats in Hyderabad for those who want to buy a house in the city. Buyers interested in purchasing Swagruha Corporation Limited units in Pocharam and Bandlaguda of ​​Rangareddy district registered their names. The lottery process began at 9 AM on Monday. Officials made it clear that only one flat per person would be allotted. According to the authorities, arrangements are being made to live stream the entire allocation procedure on Facebook and YouTube in order to maintain transparency. A total of 5,921 applications were received for purchasing 1,470 flats in Pocharam, and 33,161 applications were received for 2,246 apartments in Bandlaguda. As many as 16,679 people applied for 345 triple bedroom deluxe flats in Bandlaguda. The price of fully prepared apartments has been fixed at Rs 3,000 per square foot and semi-finished at Rs 2,750 per square foot. Also read | IMD Predicts Moderate Rainfall In Parts Of Andhra Pradesh, Telangana For Next Four Days The allocation of apartments in Pocharam will happen on June 27, while that of apartments in Bandlaguda will occur on June 28. The triple bedroom deluxe flat allocation will take place on June 29. The 3 BHK deluxe flats have one hall, 3 bedrooms, 3 attached bathrooms, kitchen, a store room, a pooja room and balcony. 3 BHK flats have one hall, 3 bedrooms, 2 attached bathrooms, a kitchen, a pooja room, and a balcony. 2 BHK flats with a hall, a kitchen, 2 bedrooms with attached bathrooms, and 1 BHK flats comprise a hall, a kitchen, a bedroom with attached bathroom, balcony. (With inputs from ABP Desam — It is a Telugu platform of ABP News. For more news, commentary and latest happenings from two Telugu states, follow https://telugu.abplive.com/)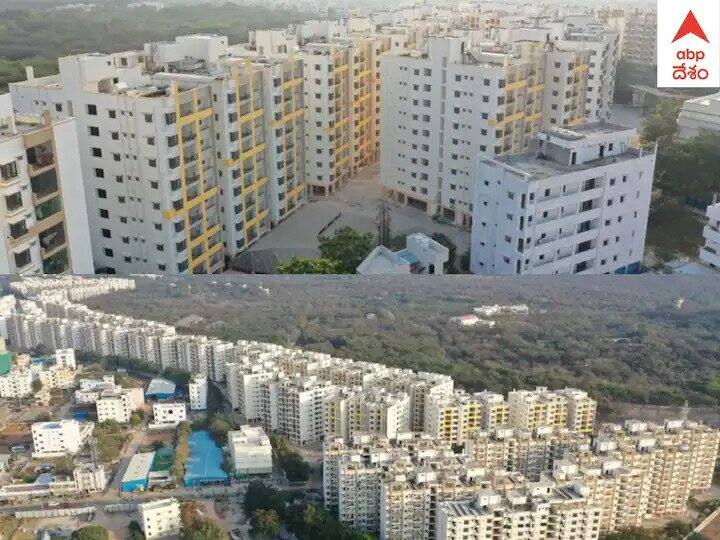 Hyderabad: Hyderabad Metropolitan Development Authority (HMDA) has recently issued a notification for the sale of Rajiv Swagruha Flats in Hyderabad for those who want to buy a house in the city. Buyers interested in purchasing Swagruha Corporation Limited units in Pocharam and Bandlaguda of ​​Rangareddy district registered their names. The lottery process began at 9 AM on Monday. Officials made it clear that only one flat per person would be allotted.
According to the authorities, arrangements are being made to live stream the entire allocation procedure on Facebook and YouTube in order to maintain transparency.
A total of 5,921 applications were received for purchasing 1,470 flats in Pocharam, and 33,161 applications were received for 2,246 apartments in Bandlaguda. As many as 16,679 people applied for 345 triple bedroom deluxe flats in Bandlaguda. The price of fully prepared apartments has been fixed at Rs 3,000 per square foot and semi-finished at Rs 2,750 per square foot.
Also read | IMD Predicts Moderate Rainfall In Parts Of Andhra Pradesh, Telangana For Next Four Days
The allocation of apartments in Pocharam will happen on June 27, while that of apartments in Bandlaguda will occur on June 28. The triple bedroom deluxe flat allocation will take place on June 29.
The 3 BHK deluxe flats have one hall, 3 bedrooms, 3 attached bathrooms, kitchen, a store room, a pooja room and balcony. 3 BHK flats have one hall, 3 bedrooms, 2 attached bathrooms, a kitchen, a pooja room, and a balcony. 2 BHK flats with a hall, a kitchen, 2 bedrooms with attached bathrooms, and 1 BHK flats comprise a hall, a kitchen, a bedroom with attached bathroom, balcony.
(With inputs from ABP Desam — It is a Telugu platform of ABP News. For more news, commentary and latest happenings from two Telugu states, follow https://telugu.abplive.com/)