Hera Pheri 3 Confirmed With The Original Cast Of Akshay Kumar, Suniel Shetty And Paresh Rawal, Fans Can't Keep Calm
New Delhi:  'Hera Pheri,' a cult comedy directed by Priyadarshan, is one of the national treasures. Hera Pheri was first released in the year 2000, and then its sequel, Phir Hera Pheri, came out in the year 2006. Cult status has been bestowed on both films throughout the years due to their funny scripts and amusing performances. Producer Firoz Nadiadwala was interviewed on the Bollywood Hungama website where he was asked the most anticipated curiosity of them all: When will Hera Pheri 3 be made? In the interview, he revealed that Hera Pheri 3 was in the works and said that the original cast will be returning. He said, "You'll get to see it very soon with the same star cast – Akshay ji, Paresh bhai and Suniel ji. The story is in place, and we are working on certain modalities. It'll be made in the same way, retaining the innocence of the characters."  He also added, "We can't take past achievements for granted. So, we have to be extra careful in terms of our content, story, screenplay, characters, mannerism etc. We have shortlisted somebody. We are in talks. We'll make the announcement soon."  As Hera Pheri producer Firoz Nadiadwala hints at a third film with the original cast, Twitter loses its cool. Watch the reactions of Twitterati: [tw]https://twitter.com/Aparna_826/status/1540029718690267137[/tw] [tw]https://twitter.com/Aparna_826/status/1540025268781592576[/tw] [tw]https://twitter.com/Gujarat_Akkian/status/1540152864902742017[/tw] [tw]https://twitter.com/wtfrahuul/status/1540075023813054466[/tw] [tw]https://twitter.com/Neeraj_Kshatriy/status/1540216310205779969[/tw] Are you, too, looking forward to seeing the wacky cast together in one place? ALSO READ: Ranbir Says Father Rishi Kapoor Would Have Been Happy Seeing Him Play A Quintessential Hero In 'Shamshera'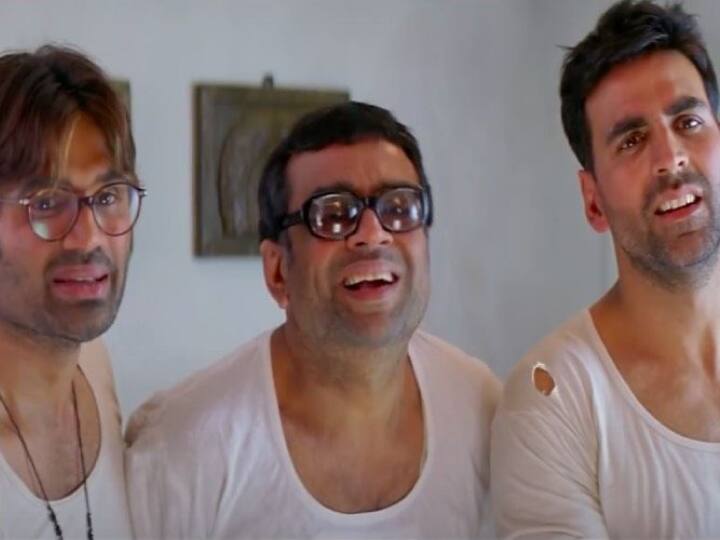 New Delhi: 'Hera Pheri,' a cult comedy directed by Priyadarshan, is one of the national treasures. Hera Pheri was first released in the year 2000, and then its sequel, Phir Hera Pheri, came out in the year 2006. Cult status has been bestowed on both films throughout the years due to their funny scripts and amusing performances.
Producer Firoz Nadiadwala was interviewed on the Bollywood Hungama website where he was asked the most anticipated curiosity of them all: When will Hera Pheri 3 be made?
In the interview, he revealed that Hera Pheri 3 was in the works and said that the original cast will be returning. He said, "You'll get to see it very soon with the same star cast – Akshay ji, Paresh bhai and Suniel ji. The story is in place, and we are working on certain modalities. It'll be made in the same way, retaining the innocence of the characters."
He also added, "We can't take past achievements for granted. So, we have to be extra careful in terms of our content, story, screenplay, characters, mannerism etc. We have shortlisted somebody. We are in talks. We'll make the announcement soon."
As Hera Pheri producer Firoz Nadiadwala hints at a third film with the original cast, Twitter loses its cool. Watch the reactions of Twitterati:
[tw]https://twitter.com/Aparna_826/status/1540029718690267137[/tw]
[tw]https://twitter.com/Aparna_826/status/1540025268781592576[/tw]
[tw]https://twitter.com/Gujarat_Akkian/status/1540152864902742017[/tw]
[tw]https://twitter.com/wtfrahuul/status/1540075023813054466[/tw]
[tw]https://twitter.com/Neeraj_Kshatriy/status/1540216310205779969[/tw]
Are you, too, looking forward to seeing the wacky cast together in one place?
ALSO READ: Ranbir Says Father Rishi Kapoor Would Have Been Happy Seeing Him Play A Quintessential Hero In 'Shamshera'