Eknath Shinde To Submit Letter Signed By 40 MLAs To Governor Today, Could Float New Party
New Delhi: While Shinde has been able to build a crisis in Maharashtra politics pushing Chief Minister Uddhav Thackeray on the verge of resigning from his post, now the rebel leader will be submitting a letter of support to the governor's office today. According to ABP News sources, Shinde, who has triggered the political chaos in the state has the support of 40 Shiv Sena MLAs who are currently lodged in the Radisson Blue Hotel with him in Guwahati.  The sources further said that Shinde will be submitting the letter of support signed by 40 MLAs today after 2 pm and can also propose a new party symbol. Shinde currently has claimed he has 45 MLAs with him in Guwahati including the independent legislators.  ALSO READ : Maha Political Crisis: 3 More Shiv Sena MLAs Join Rebel Eknath Shinde's Faction In Guwahati | Updates [tw]https://twitter.com/ABPNews/status/1539840192667783168[/tw] Since Shinde has claimed the support of 2/3rd MLAs of Shiv Sena, he cannot be penalised under the anti-defection law. Hence, Speculations are rife that the new leader can float a separate party.  As per the anti-defection law, the Minister and his allies will need 37 legislators to split Shiv Sena. They will form a separate group, which will be headed by Shinde. If Shinde proposes a new party symbol, it will be the fourth major split in Shiv Sena. It was Chhagan Bhujbal who defected to Congress in 1990. Later in 2005, Narayan Rane left to join Congress. Thereafter, Raj Thackeray also left in 2005 to form his own party, MNS. Meanwhile, members and workers of the Assam unit of TMC protest outside the Radisson Blu Hotel in Guwahati where rebel Maharashtra MLAs, including Shiv Sena's Eknath Shinde, are staying. Party's state president Ripun Bora is leading the protest. [tw]https://twitter.com/ANI/status/1539847326734229506[/tw] A worker said, "Around 20 Lakh people in Assam are suffering due to the flood. But CM is busy toppling Maharashtra Government'.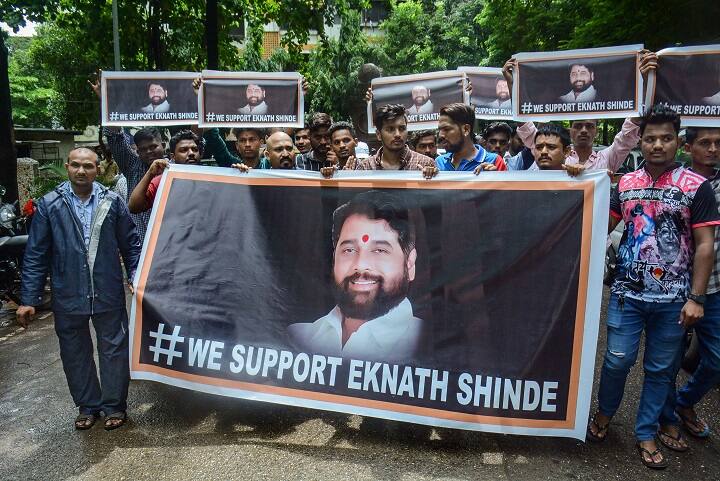 New Delhi: While Shinde has been able to build a crisis in Maharashtra politics pushing Chief Minister Uddhav Thackeray on the verge of resigning from his post, now the rebel leader will be submitting a letter of support to the governor's office today. According to ABP News sources, Shinde, who has triggered the political chaos in the state has the support of 40 Shiv Sena MLAs who are currently lodged in the Radisson Blue Hotel with him in Guwahati.
The sources further said that Shinde will be submitting the letter of support signed by 40 MLAs today after 2 pm and can also propose a new party symbol. Shinde currently has claimed he has 45 MLAs with him in Guwahati including the independent legislators.
ALSO READ : Maha Political Crisis: 3 More Shiv Sena MLAs Join Rebel Eknath Shinde's Faction In Guwahati | Updates
[tw]https://twitter.com/ABPNews/status/1539840192667783168[/tw]
Since Shinde has claimed the support of 2/3rd MLAs of Shiv Sena, he cannot be penalised under the anti-defection law. Hence, Speculations are rife that the new leader can float a separate party.
As per the anti-defection law, the Minister and his allies will need 37 legislators to split Shiv Sena. They will form a separate group, which will be headed by Shinde.
If Shinde proposes a new party symbol, it will be the fourth major split in Shiv Sena. It was Chhagan Bhujbal who defected to Congress in 1990. Later in 2005, Narayan Rane left to join Congress. Thereafter, Raj Thackeray also left in 2005 to form his own party, MNS.
Meanwhile, members and workers of the Assam unit of TMC protest outside the Radisson Blu Hotel in Guwahati where rebel Maharashtra MLAs, including Shiv Sena's Eknath Shinde, are staying. Party's state president Ripun Bora is leading the protest.
[tw]https://twitter.com/ANI/status/1539847326734229506[/tw]
A worker said, "Around 20 Lakh people in Assam are suffering due to the flood. But CM is busy toppling Maharashtra Government'.