Decoding Zomato's Blinkit Acquisition To Take On The Big Boys In The Quick-Delivery Market 
Mumbai: Zomato Ltd, an Indian food-delivery service, has agreed to buy local grocery-delivery start-up Blinkit for Rs 4,447 crore in an all-stock deal, as competition in the quick-delivery market heats up. Rivals Swiggy, Dunzo, BigBasket, and Zepto are also relying on speedy delivery in the so-called quick commerce sector, which was worth $300 million last year and is anticipated to increase 10-15 times to $5 billion by 2025, according to research firm RedSeer. The acquisition cost is valued at 18x trailing sales (FY22) even as Blinkit revenue grew a mere 18 per cent YoY in FY22 towards Rs 236 crore. Deepinder Goyal, founder, and chief executive of Zomato, believe that quick commerce has been the company's strategic priority since last year when it first invested in Blinkit. "Quick commerce has been our stated strategic priority for the last one year. We have seen this industry grow rapidly both in India and globally, as customers have found great value in the quick delivery of groceries and other essentials. This business is also synergistic with our core food business, giving Zomato the right to win in the long-term," Goyal said in a letter to shareholders on Friday.   Pros: The quick commerce segment in India is expected to grow to $5 billion over the next three years, a 16x increase from the current size of $300 million.  It will lead to better utilisation of Zomato's delivery fleet and also propel multiple orders per transit, which is a global norm for driving efficiency (bringing the delivery cost down). Zomato valuations may rise as a result of this, as this section can be valued separately for the time being, given its outstanding growth prospects. Because they have a ready delivery fleet, Zomato may be better placed than peers that are merely doing Q commerce. It will also help them compete with players like Swiggy, who have made a substantial entrance into this area with Instamart.  It will help cross-sell its quick commerce service to its existing food delivery business users. This augurs well in key metro circuits where traffic is an issue and grocery stores are scarce (select locations may have grocery stores within a larger radius).  This model will augur well for gourmet food, as the number of outlets serving this has been lower than normal grocery food. Cons: For the time being, there is no proven unit economics for this business in India.  AOV (average order value) for this segment may be extremely low, limiting margins and the capacity to charge a more significant delivery fee because the delivery cost is connected to AOV. AOV in this market is low because it caters to buyers who need products quickly; a customer may order 5-10 per cent of their monthly grocery requirements through this segment. India as a market is still predominantly driven by local Kirana outlets, which drive more than 90% of grocery requirements This market is highly fragmented with more prominent players, including MNCs with deep pockets; this may lead to heavy competition. Zomato's capacity to spend resources to gain market share in this area remains restricted, as food delivery struggles to generate appealing unit economics. Aside from a few select exclusive food items, there is very little product differentiation in this market. Most rapid commerce players, notably Grofers (now Blinkit), had previously moved into backward integration, which is an expensive proposition. Elara Securities believes that Zomato will need to offer something very different in terms of user experience (reduced lead times, good app experience, exclusive offers, differentiated food items) for Blinkit to compete with peers and scale up in this business segment.  Further, this business model may not have a big potential in the smaller markets (tier 2 and 3), as the demand for gourmet food is much lesser vs metros.  "We continue to believe that unit economics, market consolidation (competitive intensity), and delivery lead times are key monitors here for Zomato, as the latter lacks any first-mover or scale advantage, unlike in delivery which was dominated by smaller players and was also fragmented," Karan Taurani, an analyst at Elara Securities told ABP LIVE.  These smaller players (Uber Eats, Scootsy), were bought by Zomato and Swiggy only, which has given them a huge competitive advantage; herein (Q commerce). "We don't expect that to happen, as most large corporate houses (Tata, Reliance, Amazon, Flipkart) are into this space and they have the advantage of a super app, which in turn propels a much larger MAU base vs apps like Zomato," said Turani.  This large user base also helps them with an advantage on the scale (investment into tech, better bargaining power with suppliers, larger delivery fleet, etc).  According to Elara Securities, India's internet market is all about scale and market leadership, which is a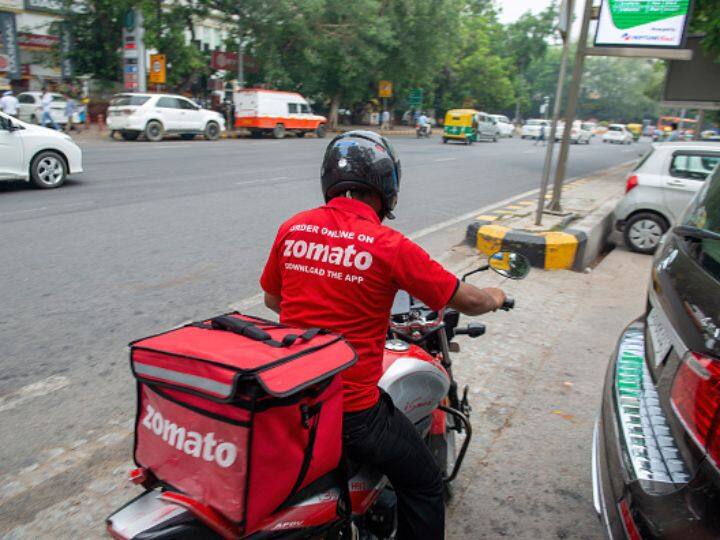 Mumbai: Zomato Ltd, an Indian food-delivery service, has agreed to buy local grocery-delivery start-up Blinkit for Rs 4,447 crore in an all-stock deal, as competition in the quick-delivery market heats up.
Rivals Swiggy, Dunzo, BigBasket, and Zepto are also relying on speedy delivery in the so-called quick commerce sector, which was worth $300 million last year and is anticipated to increase 10-15 times to $5 billion by 2025, according to research firm RedSeer.
The acquisition cost is valued at 18x trailing sales (FY22) even as Blinkit revenue grew a mere 18 per cent YoY in FY22 towards Rs 236 crore.
Deepinder Goyal, founder, and chief executive of Zomato, believe that quick commerce has been the company's strategic priority since last year when it first invested in Blinkit.
"Quick commerce has been our stated strategic priority for the last one year. We have seen this industry grow rapidly both in India and globally, as customers have found great value in the quick delivery of groceries and other essentials. This business is also synergistic with our core food business, giving Zomato the right to win in the long-term," Goyal said in a letter to shareholders on Friday.
Pros:
The quick commerce segment in India is expected to grow to $5 billion over the next three years, a 16x increase from the current size of $300 million.
It will lead to better utilisation of Zomato's delivery fleet and also propel multiple orders per transit, which is a global norm for driving efficiency (bringing the delivery cost down).
Zomato valuations may rise as a result of this, as this section can be valued separately for the time being, given its outstanding growth prospects.
Because they have a ready delivery fleet, Zomato may be better placed than peers that are merely doing Q commerce.
It will also help them compete with players like Swiggy, who have made a substantial entrance into this area with Instamart.
It will help cross-sell its quick commerce service to its existing food delivery business users.
This augurs well in key metro circuits where traffic is an issue and grocery stores are scarce (select locations may have grocery stores within a larger radius).
This model will augur well for gourmet food, as the number of outlets serving this has been lower than normal grocery food.
Cons:
For the time being, there is no proven unit economics for this business in India.
AOV (average order value) for this segment may be extremely low, limiting margins and the capacity to charge a more significant delivery fee because the delivery cost is connected to AOV.
AOV in this market is low because it caters to buyers who need products quickly; a customer may order 5-10 per cent of their monthly grocery requirements through this segment.
India as a market is still predominantly driven by local Kirana outlets, which drive more than 90% of grocery requirements
This market is highly fragmented with more prominent players, including MNCs with deep pockets; this may lead to heavy competition.
Zomato's capacity to spend resources to gain market share in this area remains restricted, as food delivery struggles to generate appealing unit economics.
Aside from a few select exclusive food items, there is very little product differentiation in this market.
Most rapid commerce players, notably Grofers (now Blinkit), had previously moved into backward integration, which is an expensive proposition.
Elara Securities believes that Zomato will need to offer something very different in terms of user experience (reduced lead times, good app experience, exclusive offers, differentiated food items) for Blinkit to compete with peers and scale up in this business segment.
Further, this business model may not have a big potential in the smaller markets (tier 2 and 3), as the demand for gourmet food is much lesser vs metros.
"We continue to believe that unit economics, market consolidation (competitive intensity), and delivery lead times are key monitors here for Zomato, as the latter lacks any first-mover or scale advantage, unlike in delivery which was dominated by smaller players and was also fragmented," Karan Taurani, an analyst at Elara Securities told ABP LIVE.
These smaller players (Uber Eats, Scootsy), were bought by Zomato and Swiggy only, which has given them a huge competitive advantage; herein (Q commerce).
"We don't expect that to happen, as most large corporate houses (Tata, Reliance, Amazon, Flipkart) are into this space and they have the advantage of a super app, which in turn propels a much larger MAU base vs apps like Zomato," said Turani.
This large user base also helps them with an advantage on the scale (investment into tech, better bargaining power with suppliers, larger delivery fleet, etc).
According to Elara Securities, India's internet market is all about scale and market leadership, which is a big driver for unit economics over the longer term.
Investors who have been following Blinkit, formerly known as Grofers, are skeptical, especially given that the company began as a competitor to online grocer BigBasket, offering extreme discounts.
"The Blinkit transaction stands in stark contrast to Reliance Retail's $200 million investment in Dunzo in January," said an investor.
Founders connect:
Albinder Dhindsa and Deepinder Goyal, co-founders of Grofers and Zomato, too have a long history.
Between 2000 and 2005, they both attended IIT-Delhi.
Dhindsa also oversaw Zomato's foreign operations for two years before launching Grofers.
Aakriti Chopra, Albinder's wife and one of Zomato's early employees who now works as Chief People Officer was recently elevated to co-founder in honour of her contributions to the company.
Blinkit's quick numbers
Blinkit made Rs 22.1 crore in sales in January, its first month as a fully-fledged fast commerce enterprise.
As of May, its revenue had risen to Rs 58 crore.
Blinkit recorded a gross order value (GOV) of Rs 402.8 crore in May, up from Rs 295.5 crore in January.
Blinkit's revenue is comprised of marketplace commissions, client delivery charges, advertisement revenue, warehousing, and ancillary services revenue.
It is present in 15 of the major cities.
Blinkit became a Unicorn last year.
Zomato shares on the BSE closed 1.15 per cent at Rs 70.35 in a firm Mumbai market on Friday, valuing it at Rs 55,391 crore.