CWG 2022: Indian Women's Team Beat England, Secures Historic First-Ever Medal In Commonwealth Games
India women vs England women Commonwealth Games 2022: Harmanpreet Kaur-led Indian women's cricket team created history on Saturday by defeating England women's cricket team by 4 runs in Commonwealth Games 2022 at Birmingham. India defeated England in the CWG semi-final match to secure a first-ever medal in cricket in CWG history. The women's team reached the final (gold medal match) by defeating England. The Indian team will face the winner of the second semi-final between Australia and New Zealand in the final, while England will take on the runners-up team of the second semi-final for the bronze medal. Batting first, the Indian women's team scored 164 runs against England on the back of a blistering 32-ball 61 run-innings from Smriti Mandhana and a solid 44-run innings off 31 balls from Jemima Rodrigues. Senior opener Smriti Mandhana (61 runs off 32 balls) gave an explosive start to her team to put the hosts England on the back foot. Smriti attacked the England bowlers from the very first ball of her innings. She completed her fifty off just 23 balls. This is the fastest fifty from India in Women's T20 International cricket. When Smriti completed her fifty, her opening partner Shefali Verma was batting unbeaten on just 5 runs. India had scored 64 runs for no loss of no wicket in the powerplay. After this, when the hosts came out to chase the target of 165 runs, the team got a good start. Even in the last few overs, the England team seemed to be winning. However, some brilliant fielding effort from India resulted in England losing 3 out of 6 wickets as run outs.  The Indian team fielded well and took advantage of some timely run-outs to restrict England to 160/6 runs in 20 overs and win the match by 4 runs. Captain Natalie Sciver scored 41 runs and Daniel Wyatt scored 31 runs for England. For India, Sneh Rana (2/28) and Deepti Sharma (1/18) were the outstanding bowlers.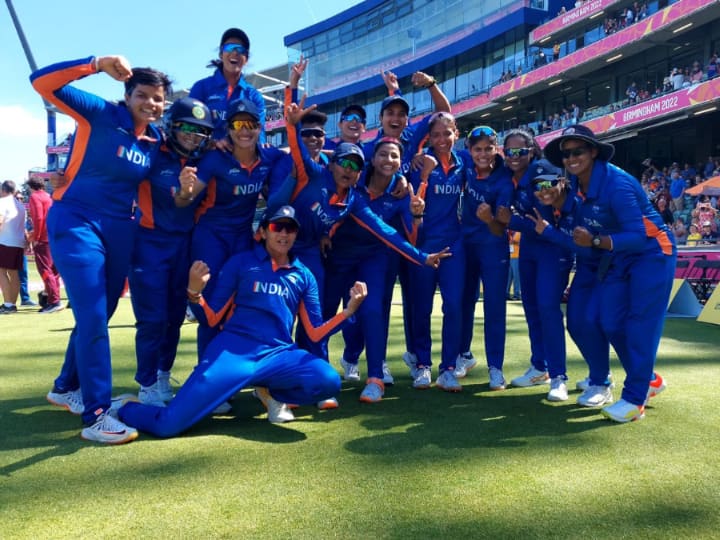 India women vs England women Commonwealth Games 2022: Harmanpreet Kaur-led Indian women's cricket team created history on Saturday by defeating England women's cricket team by 4 runs in Commonwealth Games 2022 at Birmingham. India defeated England in the CWG semi-final match to secure a first-ever medal in cricket in CWG history. The women's team reached the final (gold medal match) by defeating England. The Indian team will face the winner of the second semi-final between Australia and New Zealand in the final, while England will take on the runners-up team of the second semi-final for the bronze medal.
Batting first, the Indian women's team scored 164 runs against England on the back of a blistering 32-ball 61 run-innings from Smriti Mandhana and a solid 44-run innings off 31 balls from Jemima Rodrigues.
Senior opener Smriti Mandhana (61 runs off 32 balls) gave an explosive start to her team to put the hosts England on the back foot. Smriti attacked the England bowlers from the very first ball of her innings. She completed her fifty off just 23 balls. This is the fastest fifty from India in Women's T20 International cricket. When Smriti completed her fifty, her opening partner Shefali Verma was batting unbeaten on just 5 runs. India had scored 64 runs for no loss of no wicket in the powerplay.
After this, when the hosts came out to chase the target of 165 runs, the team got a good start. Even in the last few overs, the England team seemed to be winning. However, some brilliant fielding effort from India resulted in England losing 3 out of 6 wickets as run outs.
The Indian team fielded well and took advantage of some timely run-outs to restrict England to 160/6 runs in 20 overs and win the match by 4 runs. Captain Natalie Sciver scored 41 runs and Daniel Wyatt scored 31 runs for England. For India, Sneh Rana (2/28) and Deepti Sharma (1/18) were the outstanding bowlers.