Covid Update: India Witnesses Surge In Coronavirus Infections. Over 17K Cases In Last 24 Hrs
With a spike in the cases of covid-19 infection in India, the country on Friday reported 17,336 fresh cases, as compared to the 13,313 cases on Thursday, as per the data released by the Union Health Ministry, news agency ANI reported. Apart from this, the daily positivity rate has also increased from 2.03 to 4.32%. The active caseload currently stands at 88,284. India reports 17,336 new Covid19 cases today; Active cases rise to 88,284 pic.twitter.com/TDqDUCnqoq — ANI (@ANI) June 24, 2022 As per the Union Health Ministry, as many as 196.77 crore vaccine doses have been administered so far under Nationwide Vaccination Drive.  The countrywide COVID 19 immunisation campaign began on January 16, 2021. The next phase of COVID-19 vaccine universalization began on June 21, 2021. The immunisation campaign has been stepped up with the availability of additional vaccinations, advance awareness of vaccine availability to states and UTs for improved planning, and simplification of the vaccine supply chain. Meanwhile, Covid-19 infections are on the upswing in Delhi once more. There were 1,934 new cases. In the previous 24 hours, Delhi's Covid-19 tally has more than doubled. The total number of active cases has risen to 5,755. At the same time, the infection rate has risen to 8.10 percent.  In the previous 24 hours, no deaths have been reported in Delhi as a result of the pandemic. The Delhi government reported that 1233 persons had been cured of the sickness in the previous 24 hours. The overall number of active cases in the state has risen to 5,755. 3564 of these patients are in home isolation. Only 257 individuals are hospitalised, according to Health Department figures. (With ANI Inputs)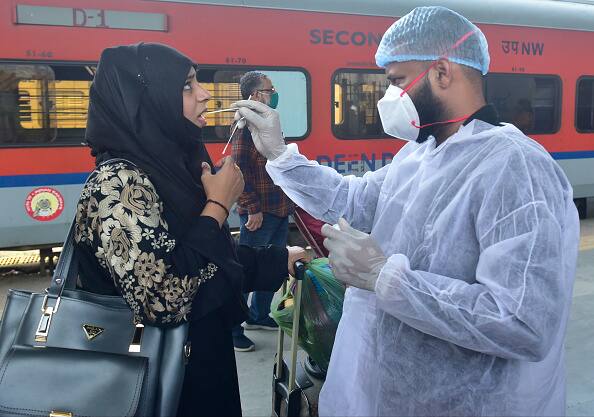 With a spike in the cases of covid-19 infection in India, the country on Friday reported 17,336 fresh cases, as compared to the 13,313 cases on Thursday, as per the data released by the Union Health Ministry, news agency ANI reported.
Apart from this, the daily positivity rate has also increased from 2.03 to 4.32%. The active caseload currently stands at 88,284.
India reports 17,336 new Covid19 cases today; Active cases rise to 88,284 pic.twitter.com/TDqDUCnqoq

— ANI (@ANI) June 24, 2022
As per the Union Health Ministry, as many as 196.77 crore vaccine doses have been administered so far under Nationwide Vaccination Drive.
The countrywide COVID 19 immunisation campaign began on January 16, 2021. The next phase of COVID-19 vaccine universalization began on June 21, 2021. The immunisation campaign has been stepped up with the availability of additional vaccinations, advance awareness of vaccine availability to states and UTs for improved planning, and simplification of the vaccine supply chain.
Meanwhile, Covid-19 infections are on the upswing in Delhi once more. There were 1,934 new cases. In the previous 24 hours, Delhi's Covid-19 tally has more than doubled. The total number of active cases has risen to 5,755. At the same time, the infection rate has risen to 8.10 percent.
In the previous 24 hours, no deaths have been reported in Delhi as a result of the pandemic. The Delhi government reported that 1233 persons had been cured of the sickness in the previous 24 hours.
The overall number of active cases in the state has risen to 5,755. 3564 of these patients are in home isolation. Only 257 individuals are hospitalised, according to Health Department figures.
(With ANI Inputs)