Covid Update: India Records Near 40% Jump In Fresh Infections, Records Over 12,000 New Cases
New Delhi: India recorded a massive spike in Coronavirus cases on Wednesday registering nearly a 40% jump from yesterday. The country logged over 12,000 cases in the last 24 hours and the daily positivity rate climbed to 2.35%. 12,213 new cases were registered in the last 24 hours taking the active case tally to 58,215. India witnessed 11 deaths, in the last 24 hours, according to the data updated by the health ministry. 7,624 recoveries people recovered from the virus.  The single-day rise in new coronavirus infections was recorded over 12,000 after 111 days, registering 38.4 per cent jump in daily cases taking the overall tally of COVID-19 cases to 4,32,57,730 while the death toll has climbed to 5,24,803. An increase of 4,578 cases has been recorded in the active COVID-19 caseload in a span of 24 hours. The weekly positivity rate was at 2.38 per cent, according to the health ministry. The number of people who have recuperated from the disease surged to 4,26,74,712 while the case fatality rate was recorded at 1.21 per cent.According to the ministry, cumulatively 195.67 doses of Covid vaccine have been administered in the country so far under the nationwide COVID-19 vaccination drive. Maharashtra Maharashtra on Wednesday recorded 4,024 new coronavirus cases, a 36 per cent rise over the previous day, and two pandemic-related deaths, the state health department said.Wednesday's case count was the highest since February 12 when the state had recorded 4,359 cases. The state's COVID-19 case tally rose to 79,15,418 and death toll reached 1,47,875. Four new cases of B.A.5 variant of coronavirus were also detected in the state, the official release said.New B.A.5 cases were reported from Mumbai, Thane, Navi Mumbai, and Pune, and all four patients were in the age group of 19 to 36 years, the department said. All four tested COVID-19 positive from May 26 to June 9, and their condition was stable, said the release.Mumbai recorded 2,293 fresh coronavirus cases highest since January 23 when the city recorded 2,250 cases and one fatality.   (with PTI inputs)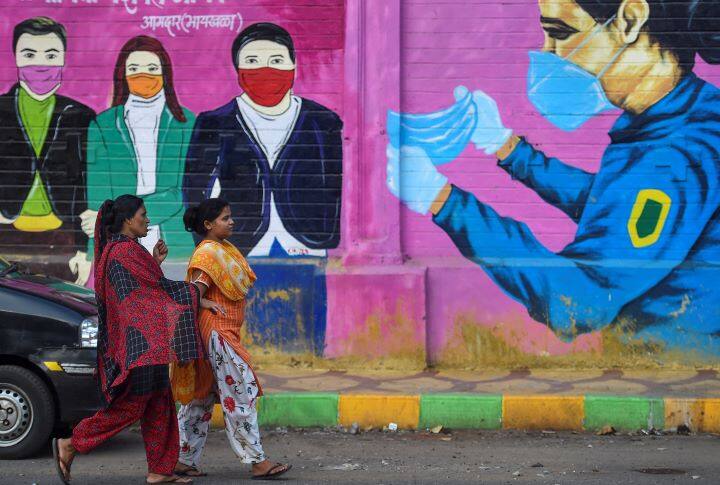 New Delhi: India recorded a massive spike in Coronavirus cases on Wednesday registering nearly a 40% jump from yesterday. The country logged over 12,000 cases in the last 24 hours and the daily positivity rate climbed to 2.35%. 12,213 new cases were registered in the last 24 hours taking the active case tally to 58,215.
India witnessed 11 deaths, in the last 24 hours, according to the data updated by the health ministry. 7,624 recoveries people recovered from the virus.
The single-day rise in new coronavirus infections was recorded over 12,000 after 111 days, registering 38.4 per cent jump in daily cases taking the overall tally of COVID-19 cases to 4,32,57,730 while the death toll has climbed to 5,24,803.
An increase of 4,578 cases has been recorded in the active COVID-19 caseload in a span of 24 hours.
The weekly positivity rate was at 2.38 per cent, according to the health ministry. The number of people who have recuperated from the disease surged to 4,26,74,712 while the case fatality rate was recorded at 1.21 per cent.

According to the ministry, cumulatively 195.67 doses of Covid vaccine have been administered in the country so far under the nationwide COVID-19 vaccination drive.
Maharashtra
Maharashtra on Wednesday recorded 4,024 new coronavirus cases, a 36 per cent rise over the previous day, and two pandemic-related deaths, the state health department said.

Wednesday's case count was the highest since February 12 when the state had recorded 4,359 cases. The state's COVID-19 case tally rose to 79,15,418 and death toll reached 1,47,875. Four new cases of B.A.5 variant of coronavirus were also detected in the state, the official release said.

New B.A.5 cases were reported from Mumbai, Thane, Navi Mumbai, and Pune, and all four patients were in the age group of 19 to 36 years, the department said. All four tested COVID-19 positive from May 26 to June 9, and their condition was stable, said the release.

Mumbai recorded 2,293 fresh coronavirus cases highest since January 23 when the city recorded 2,250 cases and one fatality.
(with PTI inputs)