China Sanctions US House Speaker Nancy Pelosi Over Taiwan Visit: Report
In response to Nancy Pelosi's visit to Taiwan, China imposes sanctions on her and her close family members, according to a MOFA statement, news agency AP reported. The sanctions against Pelosi and her immediate family members were revealed by the Chinese Foreign Ministry in a statement late on Friday. #BREAKING China sanctions US House Speaker Pelosi over Taiwan visit: foreign ministry pic.twitter.com/tk6IzuhUty — AFP News Agency (@AFP) August 5, 2022 In retaliation for Pelosi's Taiwan visit, China suspends discussions with the US on climate change, military matters, and anti-drug efforts, PTI reported.  The highest level American official to get penalties from China is Pelosi. Just before President Joe Biden took office last year, Beijing sanctioned former US Secretary of State Michael Pompeo. Pompeo didn't travel to the autonomous island until the end of his term. Since leaving office, he has advocated for Taiwan to be recognized as a "free and independent nation." According to China, Pelosi's trip was extremely delicate because of her place as the second in line to become president, Bloomberg reported. According to a China's statement, Pelosi's visit is provocative and threatens China's territorial integrity. It stated that Pelosi and her immediate family would face sanctions, but it did not specify what those consequences would be. Typically, the majority of these punishments have a symbolic purpose, AP reported. Despite putting sanctions on other Chinese officials involved in the process, Washington has refrained from sanctioning Li Zhanshu, the head of China's legislative body and No. 3 official, for his crucial role in imposing the national security law on Hong Kong in June 2020. (With Inputs From Agencies)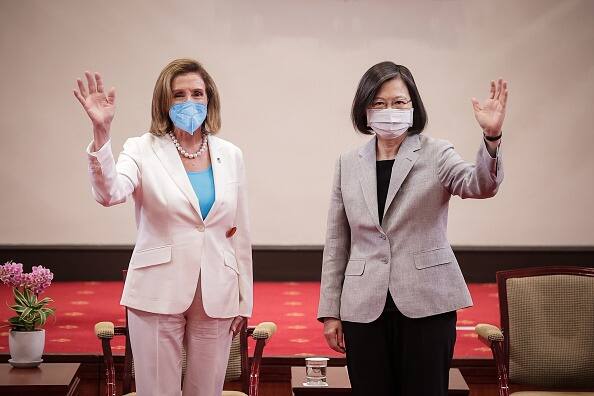 In response to Nancy Pelosi's visit to Taiwan, China imposes sanctions on her and her close family members, according to a MOFA statement, news agency AP reported.
The sanctions against Pelosi and her immediate family members were revealed by the Chinese Foreign Ministry in a statement late on Friday.
#BREAKING China sanctions US House Speaker Pelosi over Taiwan visit: foreign ministry pic.twitter.com/tk6IzuhUty

— AFP News Agency (@AFP) August 5, 2022
In retaliation for Pelosi's Taiwan visit, China suspends discussions with the US on climate change, military matters, and anti-drug efforts, PTI reported.
The highest level American official to get penalties from China is Pelosi. Just before President Joe Biden took office last year, Beijing sanctioned former US Secretary of State Michael Pompeo.
Pompeo didn't travel to the autonomous island until the end of his term. Since leaving office, he has advocated for Taiwan to be recognized as a "free and independent nation."
According to China, Pelosi's trip was extremely delicate because of her place as the second in line to become president, Bloomberg reported.
According to a China's statement, Pelosi's visit is provocative and threatens China's territorial integrity. It stated that Pelosi and her immediate family would face sanctions, but it did not specify what those consequences would be. Typically, the majority of these punishments have a symbolic purpose, AP reported.
Despite putting sanctions on other Chinese officials involved in the process, Washington has refrained from sanctioning Li Zhanshu, the head of China's legislative body and No. 3 official, for his crucial role in imposing the national security law on Hong Kong in June 2020.
(With Inputs From Agencies)