'BJP-Sena Govt Has Taken Charge, Based On Beliefs Of Balasaheb Thackeray': Maha CM Shinde In Assembly
New Delhi: Maharashtra Chief Minister Eknath Shinde on Sunday addressed the state legislative assembly saying that a "BJP-Shiv Sena government has taken charge, based on the beliefs of Balasaheb Thackeray." The statement came as Bharatiya Janata Party candidate Rahul Narwekar was elected as the Speaker of the Maharashtra Legislative Assembly during the special convened after the formation of the new Shinde-led government in the state. Narwekar received a total of 164 votes in support and 107 against him. He was  "Now a BJP-Shiv Sena government has taken charge, based on the beliefs of Balasaheb Thackeray. To date, we had seen that people change sides from Opposition to Government, but this time, leaders of government went to Opposition," Maharashtra CM Eknath Shinde said, as quoted by news agency ANI. "I myself was a minister, several other ministers too left the Government. This was a huge thing for a common worker like me who was devoted to the ideology of Balasaheb Thackeray and Anand Dighe," he added. [tw]https://twitter.com/ANI/status/1543486795307835392[/tw] First-time BJP legislator Rahul Narvekar was pitted against Shiv Sena MLA Rajan Salvi for the post of Maharashtra Legislative Assembly Speaker. Maharashtra Deputy CM Devendra Fadnavis told the state assembly that the BJP-Shiv Sena government, under the leadership of Eknath Shinde, "will try to fulfill all the aspirations of Maharashtra and we hope that you (Speaker) will give a good co-operation for the same." Soon after Narwekar took charge as the Speaker of the Maharashtra Assembly, chants of "Jai Bhavani, Jai Shivaji", "Jai Sri Ram", "Bharat Mata ki Jai" and "Vande Mataram" were raised in the assembly. During the session, Samajwadi Party (SP) abstained from voting against the BJP candidate. Both its MLAs Abu Azmi and Raees Shaikh kept sitting during the headcount, ANI reported. Besides SP, AIMIM also abstained from voting against BJP's Narwekar. Hence, a total of three MLAs abstained from voting in the Assembly including AIMIM's Shah Farukh Anwar, SP's two MLAs while one AIMIM MLA was absent from the House. Shinde Govt To Face Floor Test Tomorrow A special two-day Assembly session has been convened on July 3 and 4. While the election for the speaker's post was held today, the newly sworn-in Chief Minister Eknath Shinde will face the floor test tomorrow. The MVA alliance consists of the Shiv Sena, NCP, and Congress. The government of these three parties collapsed on Wednesday following a rebellion by Eknath Shinde, who took oath as Chief Minister the next day. Shinde was camping in a Guwahati hotel along with rebel MLAs for more than a week after rebelling against Uddhav Thackeray-led Shiv Sena leadership and his government. The BJP has claimed the support of 170 MLAs, including those from the Shinde faction, in a House of 288. (With Agency Inputs) ALSO READ | Accepting Deputy CM's Post Must Be A 'Real Shocker' For Fadnavis, Says Shiv Sena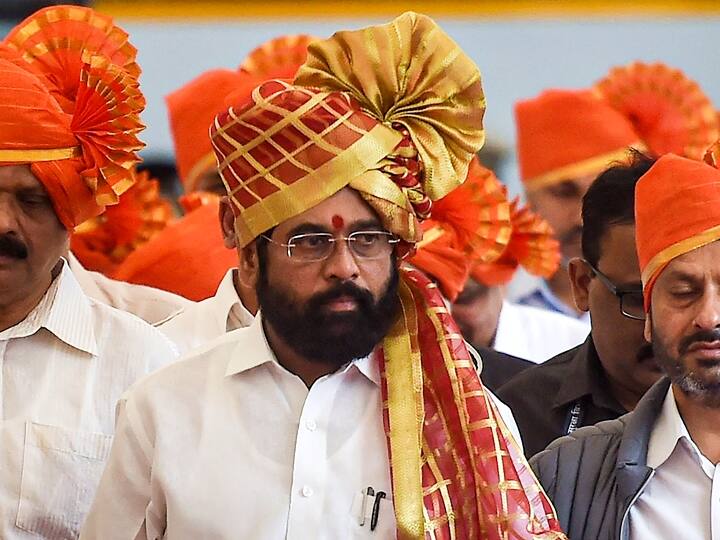 New Delhi: Maharashtra Chief Minister Eknath Shinde on Sunday addressed the state legislative assembly saying that a "BJP-Shiv Sena government has taken charge, based on the beliefs of Balasaheb Thackeray." The statement came as Bharatiya Janata Party candidate Rahul Narwekar was elected as the Speaker of the Maharashtra Legislative Assembly during the special convened after the formation of the new Shinde-led government in the state. Narwekar received a total of 164 votes in support and 107 against him. He was
"Now a BJP-Shiv Sena government has taken charge, based on the beliefs of Balasaheb Thackeray. To date, we had seen that people change sides from Opposition to Government, but this time, leaders of government went to Opposition," Maharashtra CM Eknath Shinde said, as quoted by news agency ANI.
"I myself was a minister, several other ministers too left the Government. This was a huge thing for a common worker like me who was devoted to the ideology of Balasaheb Thackeray and Anand Dighe," he added.
[tw]https://twitter.com/ANI/status/1543486795307835392[/tw]
First-time BJP legislator Rahul Narvekar was pitted against Shiv Sena MLA Rajan Salvi for the post of Maharashtra Legislative Assembly Speaker.
Maharashtra Deputy CM Devendra Fadnavis told the state assembly that the BJP-Shiv Sena government, under the leadership of Eknath Shinde, "will try to fulfill all the aspirations of Maharashtra and we hope that you (Speaker) will give a good co-operation for the same."
Soon after Narwekar took charge as the Speaker of the Maharashtra Assembly, chants of "Jai Bhavani, Jai Shivaji", "Jai Sri Ram", "Bharat Mata ki Jai" and "Vande Mataram" were raised in the assembly.
During the session, Samajwadi Party (SP) abstained from voting against the BJP candidate. Both its MLAs Abu Azmi and Raees Shaikh kept sitting during the headcount, ANI reported.
Besides SP, AIMIM also abstained from voting against BJP's Narwekar. Hence, a total of three MLAs abstained from voting in the Assembly including AIMIM's Shah Farukh Anwar, SP's two MLAs while one AIMIM MLA was absent from the House.
Shinde Govt To Face Floor Test Tomorrow
A special two-day Assembly session has been convened on July 3 and 4. While the election for the speaker's post was held today, the newly sworn-in Chief Minister Eknath Shinde will face the floor test tomorrow.
The MVA alliance consists of the Shiv Sena, NCP, and Congress. The government of these three parties collapsed on Wednesday following a rebellion by Eknath Shinde, who took oath as Chief Minister the next day.
Shinde was camping in a Guwahati hotel along with rebel MLAs for more than a week after rebelling against Uddhav Thackeray-led Shiv Sena leadership and his government. The BJP has claimed the support of 170 MLAs, including those from the Shinde faction, in a House of 288.
(With Agency Inputs)
ALSO READ | Accepting Deputy CM's Post Must Be A 'Real Shocker' For Fadnavis, Says Shiv Sena